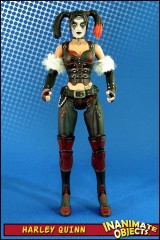 Harley Quinn (Revenge)
A funny thing happened on the way to making this custom. Less than 24 hours after I put the finishing touches on this one, DC Collectibles announced their own version, due in stores later this year. Sigh. I can't win for losing. Nonetheless, my version still has merit. I built (
read more...
)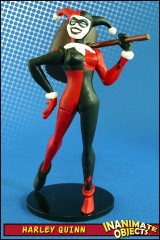 Harley Quinn with Hammer
Climax1 is cranking out some great work lately! He bends limbs like they're wet noodles, creating all new characters and variations. I can't wait to see what he comes up with next! When Climax1 revealed his Harley with a hammer, there was no question. I had to have her on (
read more...
)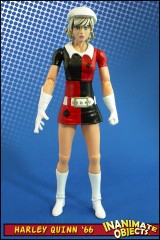 Harley Quinn 1966
After waiting all my life, I finally have some halfway decent 1966 Batman toys on the shelf. But as I set them up for the first time, something seemed to be missing. Harley, of course! But our dear kookey gal didn't exist back then. So I asked myself what she (
read more...
)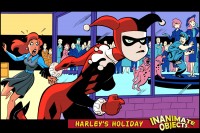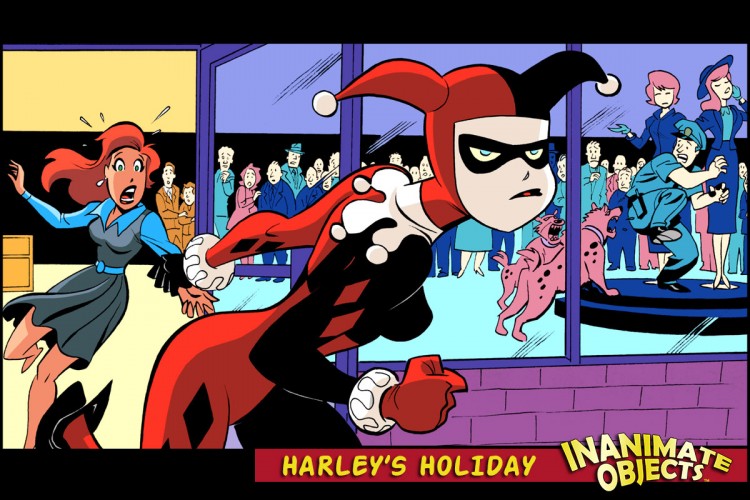 Harley's Holiday
Some time ago I ran across the children's book "Harley's Holiday." It's one of those large books with buttons for audio clips. I'd seen the cover from time to time and didn't give it much thought. This time around, I got a glimpse at the interior art. Not only was (
read more...
)
Mad Love Digital Art
For my second dip into the vector pool, I upped the ante and chose my favorite hench gal, Harley! What more iconic image of the criminal jester than her break out of the Joker from "Mad Love?" While simple by professional standards, I found this piece to be a fun (
read more...
)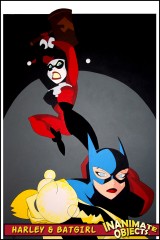 Batgirl & Harley Quinn Painting
Several months ago I decided my studio was in need of some redecorating. This primarily involved the removal of several figures and shelves, as the sheer number of figures became overwhelming. (They've since been properly archived.) Of course, their removal left a large space on the walls. What I really (
read more...
)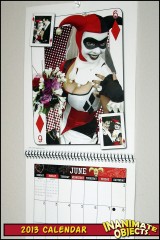 Calendar 2013
It's Year 4 of the Inanimate Objects calendar! This year's is the most exciting yet, as I was fortunate enough to collaborate with some of the best Harley Quinn cosplayers in the observable universe: Tara Strand, Laura Magnusson, and DesiRee Preston. They're all creative souls overflowing with talent. Thanks for (
read more...
)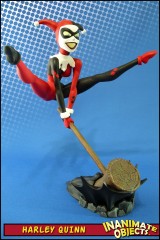 Harley Quinn (Whack-a-Bat)
Some time ago I stumbled across the amazing work of Sean Burford. Clearly, I was drawn in by his "Whack-a-Bat" Harley Quinn, but I was soon overwhelmed by the depth of his work. The man is a talent! I was lucky enough to be able to purchase this Harley to (
read more...
)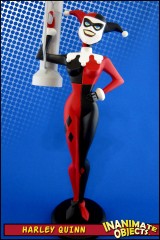 Harley Quinn (Return of the Joker)
A few years ago I acquired an amazing Harley maquette, based on her appearance in Batman Beyond: Return of the Joker. Given my love of the gal, I simply had to add her to my shelf. The following photos are my finished and painted rendition of the fantastic sculpt. (Only (
read more...
)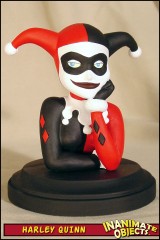 Harley Quinn (Bust)
This Harley bust garage kit was sculpted and produced by the talented Jason Peltz. The basic sculpt is very good, and really captures the spirit of the character. The casting was a little rough, but she cleaned up okay. Created Summer 2002 (
read more...
)