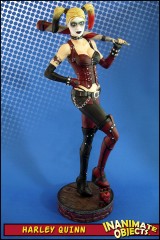 Harley Quinn (Arkham City)
Shortly after I finished Sean Burford's "Whack-a-Bat" Harley Quinn, he revealed his amazing sculpts of Harley from the Arkham Asylum and Arkham City games. Wow! These were amazing! I knew I had to take a crack at these and add them to my shelves. As is evident from his body (
read more...
)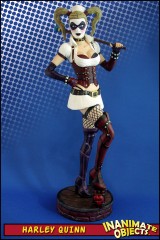 Harley Quinn (Arkham Asylum)
Shortly after I finished Sean Burford's "Whack-a-Bat" Harley Quinn, he revealed his amazing sculpts of Harley from the Arkham Asylum and Arkham City games. Wow! These were amazing! I knew I had to take a crack at these and add them to my shelves. As is evident from his body (
read more...
)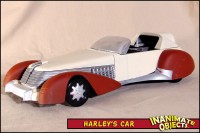 Harley Quinn's Car
Harley's car is just a simple repaint of the Shadow car, from the movie of the same name. The secret rocket engines in the back still work, and so does the missile in the front. Harley sat too low in the car, so I built her a small booster seat (
read more...
)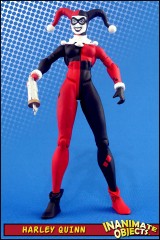 Harley Quinn (Sale Style)
It seems when I start to make one Harley, I can't help but make more. Though in retrospect, I don't recommend painting multiple variations of that costume at one time to anybody. I am an unabashed fan of "Long Halloween" and "Dark Victory." Jeph Loeb's script and Tim Sale's art (
read more...
)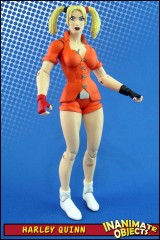 Harleen Quinzel (Arkham Asylum Inmate)
I have enjoyed the heck out of the Arkham Asylum and Arkham City games. They're effectively a CGI, "realistically" rendered extension of the animated series. I also enjoy the art of Carlos D'Anda, who was a character designer on the game, and also illustrated the Arkham City comic (written by (
read more...
)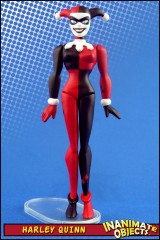 Harley Quinn (TNBA II)
It's been far too long since I've created some Harley customs. To make up for that slack, I've created four new ones. I suppose I didn't have a real need for a TNBA Harley, as I already made one that I'm quite pleased with. But I wanted to try a (
read more...
)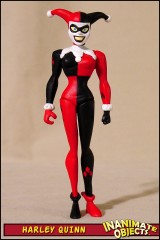 Harley Quinn (TNBA I)
I've long since wanted an improved, new school Harley. Given that the only difference between the old and new school designs are some sharper angles, a new custom had to be reasonably spot-on, otherwise it's just a plain old Harley. Using Hawkgirl as a base, I think I've gotten pretty (
read more...
)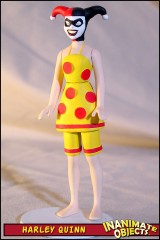 Harley Quinn (Swimsuit)
True, this particular design hasn't appeared in an episode, but one can't have a swimsuit Joker without a Swimsuit Harley. The main body is from a Mulan figure (affectionately called "Underwear Mulan"), while the head is a cast copy. The skirt is sculpy with liquid plastic poured over it to (
read more...
)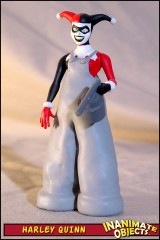 Harley Quinn (Mechanic)
Another inspired use for spare parts. I had a Harley torso, sans legs and head, which was the byproduct of a previous project. I built up sculpy around the torso to create the overalls, and used a head cast from a Harley figure. The result helps round out the ever-growing (
read more...
)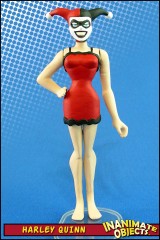 Harley Quinn (Mad Love)
Continuing my never-ending trend of "let's make every variation of Joker and Harley," I present Harley in her negligé from "Mad Love." The main body is a Hawkgirl. The bare feet come from an old Pocahontas figure (I think). The arms are from Hasbro's attempt at a TNBA Poison Ivy, (
read more...
)