Ghostbusters (Marshmallow)
Posted on June 3, 2018
Difficulty: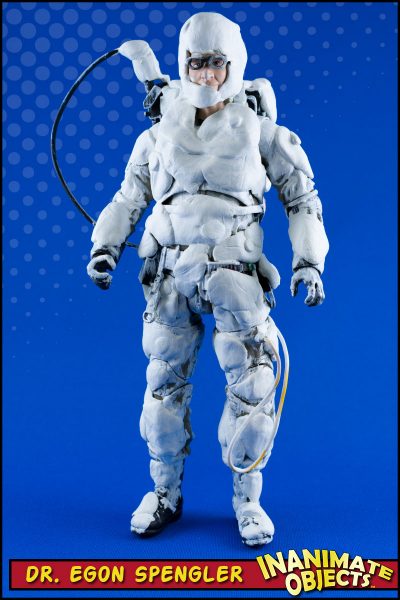 When Mattel produced their 6″ line of Ghostbusters, I was very disappointed in the marshmallow versions of the 'Busters. Mattel took the cheap way out and slapped on a minimal amount of white paint. There was no additional sculpting to represent the mass of marshmallow that covered each fellow, and the amount of paint applied wasn't even close to faking it. So when Diamond Select starting to offer marshamallow variants in their 7″ line, I had hoped they would step up to the plate the do it right this time. Sadly, no such luck. True, they did produce updated head sculpts with a tiny  amount of sculpted marshmallow, but the rest of the marshmallow just paint, and not near enough of it. Once again, I took matters into my own hands.
Any fan of the film knows that Venkman managed to avoid most of the mess, so I only applied changes to Stanz, Zeddemore, and Spengler. I applied plumber's epoxy to represent the marshmallow, as it was cheap and there was a lot of territory to cover. I tried to maintain articulation as much as possible, but some loss was unavoidable. A little white paint applied and the boys were ready to cross the streams again!
In the photos below, I took a tip from the set of the movie and used cheap shaving cream as a substitute for environmental marshmallow. That was a weird photo shoot.
Created May 2018