Rocketeer (Betty)
Posted on July 14, 2018
Difficulty: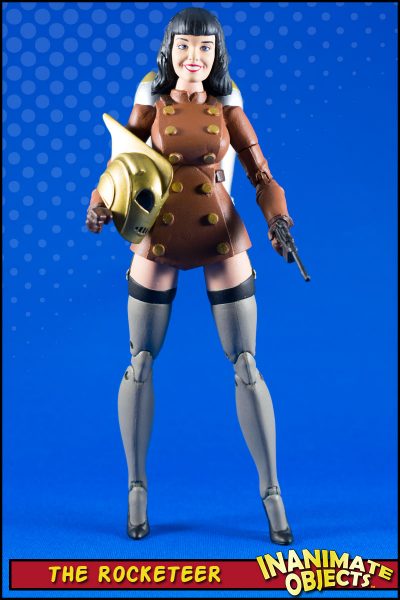 Cliff's girlfriend Betty suited up as the Rocketeer may have been what started this current Bombshell batch of customs. I've seen lots of great fan art and cosplay of Betty in the jacket, but never a custom figure. When I realized that Bombshell Poison Ivy would make a great base figure, it was time to take action!
As you can see from the WIP image, most of the jacket is sculpted from magic Sculpt. The gloves and elbows come from a Bombshell Harley Quinn. Betty's head is from the Dark Horse figure of Bettie Page as Cleopatra. (And excellent figure and ancillary Bombshell unto itself). Since Dave Stevens' art of Betty was based on Ms. Page, this seemed like the logical thing to do. I procured another Funko Rocketeer figure for the helmet and jetpack. I considered sculpting a comic-style jetpack from scratch, but I ultimately decided that would take to long. Maybe I'll revisit that someday. The current one is easily swappable via magnet.
The head and helmet can be swapped out. The helmet uses two separate neck pieces, crafted from styrene and magic Sculpt. One allows the head to appear normal when standing. The other is meant for flying poses.
She may not be DC, but she's a Bombshell through and through.
Created July 2018