Supergirl (Bombshell)
Posted on July 15, 2019
Difficulty: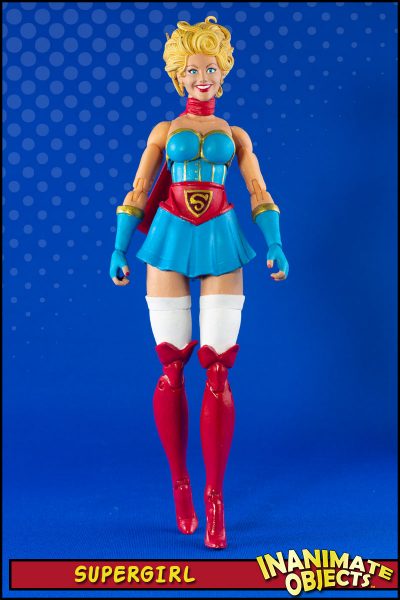 UPDATE: July 2022
I was never happy with how Bombshell Supergirl's head turned out. It looked weird and wrong. Thankfully, a better solution made itself available a few years later. I found a 3D-statue for printing that featured a near perfect head. So I adapted and printed that. (I don't know who sculpted it, else I would give credit. If you know, please tell me!)
I replaced most of the photos below, but some of them still remain.
ORIGINAL POST:
Supergirl was one of the six Bombshells figures solicited by DC Collectibles and then cancelled. I was not prepared to take no for an answer. So I took matters into my own hands.
I started with the torso and arms of Bombshells Batgirl. I did so because the bustier was a similar shape, and it would allow for unpainted arms and elbows, meaning no paint rubs. Her legs come from a Bombshells Poison Ivy. The skirt and scarf/cape are from a DC Superhero Girls Supergirl. Magic Sculpt was used for the details, such as the belt. Her head is cast from a Bombshells Harley Quinn. Some of the hair is sculpted, some was stolen from…. whoo-boy, it's been so long, I don't remember where that hair started!
Since I was matching the flesh color of her arms, she's probably a little darker in skin tone than Ant Lucia's designs. This has the odd effect of making her blonde eyebrows disappear. Yeah, it's a weird look, but it's better than the nothingness DC Collectibles gave us.
Created Summer 2019