Poison Ivy (Bombshell Circus)
Posted on May 18, 2019
Difficulty: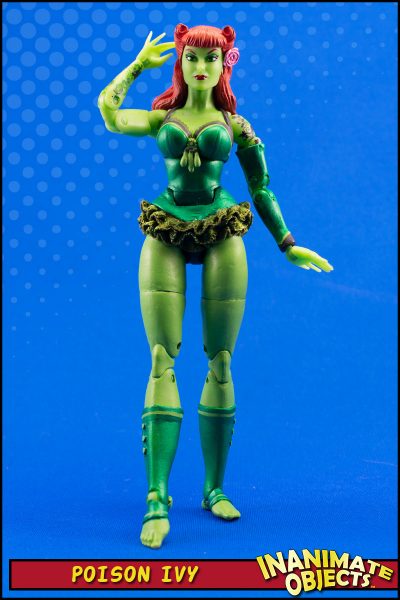 Ant Lucia is the genius designer behind DC's Bombshells. Without him, they wouldn't exist. It's a blending of two of my favorite things: retro pin-up art and DC!
He designed some covers for the comic book, including one in which Harley is in her traditional jester outfit, and Ivy is wearing a retro acrobat/circus performer outfit. Together they hang from a swing. I love this piece! I knew that I not only wanted to recreate these looks as action figures, but I wanted to recreate the full piece of art. Thus my circus gals came to be.
Circus Ivy was built from a standard Bombshells Ivy. The basics involved typical epoxy work, such as filling in some of the existing etched lines, or adding the sleeve to her left arm. My goal was to leave as much of the original figure untouched as possible, to cut down on paint work.
Two areas presented challenges that required new solutions. The first involved her feet. To really sell the retro circus look, her toes needed to be exposed. That meant ditching the heels of the base figure. But finding bare feet at this scale (and reasonably priced) can be tough. After exploring several options, I realized the solution was as close as my fodder storage. I stole the bare feet from Gotham's Barbara Kean. The hole matched the peg on Ivy's legs perfectly. But the heel extended comically far, so I had to cut that down and reshape it. In the end, I think the feet worked great!
The second, more difficult of the two challenges, was the ruffled tutu. I'll always prefer a sculpted piece over soft goods, so I tried to shape the ruffles from scratch. I am sad to report that such a complex arrangement of shapes is well beyond my meager skill. I tried Magic Sculpt, Pro Create, Super Sculpey… None of it was going to happen. I considered various means of cutting and gluing vinyl. Nope.  So, I turned to fabric options. I ran through various options, each more unlikely than the last. Finally, with no viable solutions in sight, I headed out to a sewing and craft store to see if any ideas might yet spark. And wow, did I luck out! I found some ribbon, about an inch in width, that featured ruffles on either edge. The store didn't carry green, but I made note of the manufacturer and found green online.
With ruffled ribbon in hand, I split a segment down the middle, resulting in a half-inch width of ribbon with ruffles on one side. I masked off the ruffles, and then sprayed 3M 77 adhesive to the fabric. I wrapped the now sticky ribbon around Ivy's hips, creating the lower layer of the skirt. I repeated this process two more times. The upper tier left the fabric of the ribbon exposed, so I covered that with Magic Sculpt epoxy, and then painted that to match the rest of the outfit. This may have been the last solution I considered, but I think it might have been best!
The swing itself is made from styrene rods. It hangs from an aluminum rod, bent at a 90-degree angle and painted black.
Perhaps the toughest part of this project was recreating the art. Ivy sits on the swing well enough, but making Harley hang upside down… that was tough. These photos took about half an hour pose, and the position is still not as accurate as I'd like. The two of them are still on the swing. They may never come off!
A note about the circus set: I downloaded some "circus tent" art for the main walls. The raised half circle was cut and assembled using illustration board, with printed diamonds. The radiating floor was also digitally designed and printed.
Created Spring 2019