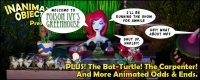 Site Update: August 12, 2018 Poison Ivy's Greenhouse
Poison Ivy has taken over Inanimate Objects, and everything is overrun by plants! Quick! The only way to stop her is by checking out all the new customs in this update! Batgirl (TNBA with cape) The Carpenter Catwoman (Concept Design) Clayface (BTAS) Poison Ivy's Greenhouse Mikey "Batturtle" Poison Ivy (BTAS) (
read more...
)

Photo Archive
Inanimate Objects consists primarily of photographs of custom figures. From time to time, though, I dabble in toy photography that is less custom-centric. To date I've posted these images to social media, but that's hardly an efficient means of communication. Twitter is just a mess with no organization. Facebook denies (
read more...
)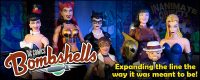 Site Update: July 14, 2018 DC Bombshells
The DC Bombshells figures are some of the best toys DC Collectibles has ever produced. Well, the first wave was. The second wave suffered from budget cuts. The third wave suffered so much it was outright cancelled, and I've been looking to expand my Bombshells shelf ever since. If ya (
read more...
)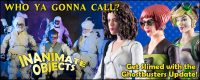 Site Update: June 3, 2018 Who Ya Gonna Call?
The Ghostbusters are hiring! And Inanimate Objects got the job! Well, sort of. I expanded the population of the shelf, at any rate. New stuff: Marshmallow Ghostbusters Dana Barrett Harley Quinn Ghostbuster Janine Melnitz (Ghostbusters 2) Dr. Peter Venkman Enjoy! Casimir June 2018 (
read more...
)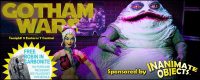 Site Update: March 16, 2018 GOTHAM WARS!
As with so many things in life, this story starts with a girl. Harley, to be exact. (No surprise there.) Many years ago, I decided I wanted to customize a "Slave Leia" Harley Quinn figure. (I go into more detail on the Ha'leen Quin-Zell page.) Jump ahead five or six (
read more...
)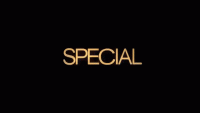 Gotham Wars
Brought to you by Makers of fine custom products. Available wherever fine customs are not sold. Dramatis Personae Dramatis Vehiculis Tonight's Episode: "Frozen" Bonus Pin-Up Section Quick reference to the customs: AL-FR3D Bobah Sh'ott Ha'leen Quin-Zell Joh'ker the Hutt The Knight Pyggy RD-L3R (
read more...
)
Site Update: October 16, 2017 The Stacked Deck
A brief update. Introducing the Extreme-Sets style Stacked Deck club! Casimir October 2017 (
read more...
)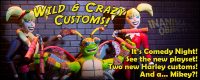 Site Update: August 28, 2017 Wild and Crazy Customs
It's time to unveil my first 6″/7″ scale playset! Welcome to the Laff It Up Comedy Club! Your hosts this evening are unmasked Harley Quinn, Bombshell Harley Quinn, and a special guest appearance by Mikey the amazing Flyturtle! Unmasked Harley Quinn Bombshell Harley Quinn Mikey "Flyturtle" Laff it Up Comedy (
read more...
)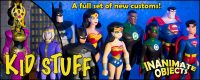 Site Update: July 16, 2017 Kid Stuff
It's only been a month, and there's already a new batch of customs! It's a Christmas in July miracle! Well, I may have cheated. Most of these feature sculpts and kits by Stew and 37Customs. Bats, Supes, and GL were assembled and painted over a year ago. I didn't want (
read more...
)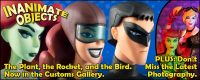 Site Update: June 16, 2017 The Plant, the Rocket, and the Bird
Today I give you a mini-update, with three new customs: Poison Ivy (TNBA Comic Style) Roxy Rocket (sans coat) Nightwing (via the "Batman and Harley Quinn" movie) I'd also like to invite you to check out the Inanimate Objects Facebook page. I've been experimenting with some new sets and photography (
read more...
)