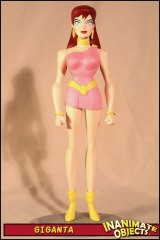 Giganta (Giant, Pink Dress)
Like so many other customizers, I knew as soon as I saw the 10″ Wonder Woman figure she'd make a great base for a Giganta custom. Unlike the aforementioned artisans, my Giganta custom was started, but then took over a year to finish. Seems I kept getting sidetracked! Obviously, the (
read more...
)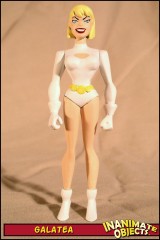 Galatea
I am loving the current story arcs in Justice League Unlimited. The whole "conspiracy" thing is so much fun to watch. Poor Galatea here is a sad victim of that conspiracy. The base is a Mattel Wonder Woman (the first version), which I chose for the heels. As Tea is (
read more...
)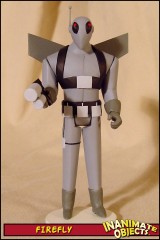 Firefly (TNBA)
Slowly but surely, I'm making my way down the list of all the major players in the world of animated Gotham. Firefly's been on the list for a really long time, but I never could get "fired" up about him. Oddly, once I started him, I really began to enjoy (
read more...
)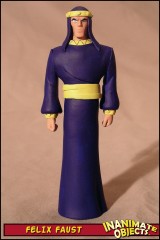 Felix Faust
Felix Faust was never high on my list of customizing priorities. Not until the Lex Luthor figure from the "Superman:Doomsday" line was released. When I realized I had the perfect head and arms for Felix, it was all I could do to not work on Felix. (Translation: It took me (
read more...
)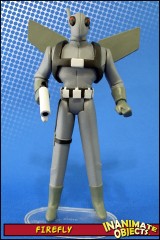 Firefly (JLU)
Stew worked up most of the head and torso, while I concentrated on the rest. The head and backpack are made from Mattel's parts, though the backpack was modified to fit the straps, and the head now features the "button" in the left side that Mattel forgot. Stew extended the (
read more...
)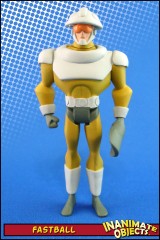 Fastball
Fastball's noggin was originally crafted by the talented 37Customs. I provided the standard JLU medium male body, adding the cuffs, armor, and catching mitt with Magic Sculpt. The belt is vinyl. Another obscure Legion member added to my shelf. Thanks, 37Customs! Created October 2012 (
read more...
)
Mr. Freeze (Comic)
I recently partook in an online customs exhibition. The inaugural event featured Mr. Freeze, meaning the participants were asked to submit a version of the character. For my submission to the exhibition, I chose Freeze as he appeared in the animated style comics. To my knowledge, he wore two, maybe (
read more...
)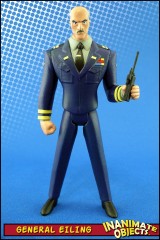 General Eiling
This project is built entirely around Glassman's fantastic General Eiling head sculpt. Glass man is just chock full of talent, and I am very pleased he shares his efforts with us mere mortals. While Glassman and Tyke opted for Eiling's blue uniform, I chose the green. (Don't ask me the (
read more...
)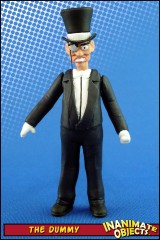 Dummy
A couple of years ago, a fellow called the Guff entered the customizing scene, and he has done nothing but amazing stuff since! He not only creates great customs, but crafts some fine original and modified sculpts, and then makes them available to others via casting. The Guff has a (
read more...
)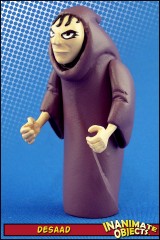 Desaad
Desaad is the result of what turned out to be something a joint project between Quartermain and Stew. Quartermain has really been knocking out some great original sculpts recently, and Desaad is among those. Stew has been mastering the arts of molding and casting, and generously providing needed parts to (
read more...
)