Black Mask (Batman Disguise)
Posted on July 5, 2013
Difficulty: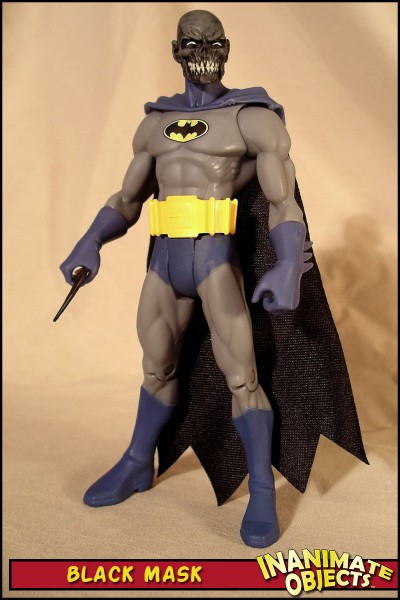 I'm not one to normally make "villain of the week" characters, as they tend to be quickly forgotten, but I really enjoyed the recent images of Black Mask dressed as Batman during the "War Crimes" story. Given that this project would not be difficult, and I already had the parts, I decided to tackle it.
The body is a Mattel Batman, the one that came with Superman in a two-pack. I split the top from the bottom, removed the wacky belt, then re-attached the sections with Kneadatite I matched the existing blue blue and painted the trunks. The belt is leftover from a DC Direct Silver Age Batman.
The head is simply a casting of the DC Direct Black Mask figure, with some Kneadatite used to lengthen the neck. A solid paint job, and he's finished!
Another quick but satisfying project. (I recommend this type for beginners.)
Created Summer 2005
P.S. Yer Pal Boneyard just reminded me what I forgot to mention before, and that is I designed the head to be easily removed, so that I might swap it out with a Joker or Hugo Strange head in the future.