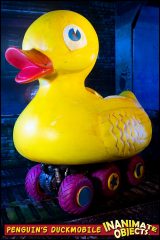 Duckmobile
Ideas for customs can appear at weird times and places. A few weeks back I was brushing my teeth, when my brain suddenly asked "Hey, has anybody every made an over-sized rubber duck?" What prompted that inquiry, I cannot say. Nonetheless, 5 seconds on Amazon answered that question with a (
read more...
)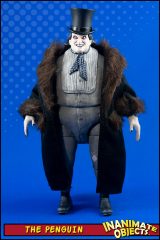 Penguin (Batman Returns)
In its final days of their having the DC license, Mattel finally bestowed upon the fans a 6″(ish)-scale Penguin from "Batman Returns." It was hardly perfect, but better than nothing. (They had previously released a 3.75″ version using a superior sculpt. Why not re-use those files?) The version Mattel released (
read more...
)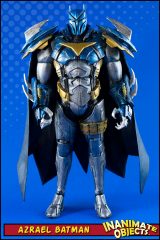 Batman (Azrael)
It's no secret I love Sean Gordon Murphy's "Batman: White Knight" books. His introduction of Jean-Paul Valley is arguably better than the original. And of course I dig the costume designs. Thankfully, Todd McFarlane knocked those out of the park where the figures are concerned. I had seen some folks (
read more...
)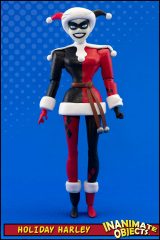 Harley Quinn (Holiday)
I think this is the third time I've made a Holiday Harley based on the "Batgirl Adventures" comic book. I love that book, and I keep deriving inspiration from it, even if that means making the same thing over again in different scales. This 6″ version combines parts from TNBA (
read more...
)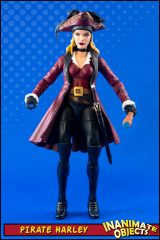 Harley Quinn (Pirate Queen)
Some time ago, I saw a no-paint kitbash project that used the Marvel Legends Elsa Bloodstone figure to craft a female pirate. I knew with a few twists to that recipe that a new career path for our dear, beloved Harley would soon open up. I didn't have to (
read more...
)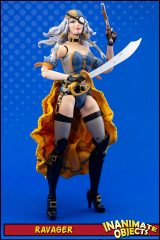 Ravager (Bombshell)
Seems like the farther I make it through the Bombshells roster, the more challenging each design becomes. That's certainly the case with Ravager. But I relished the challenge, and managed to learn a few things. This particular design is based on Emanuela Lupacchino's Bombshells comic cover. (I want to say (
read more...
)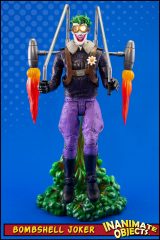 Joker (Bombshell)
As I started work on Airboy, I began to think about what other uses the Diamond Select Rocketeer might have as a base. I'm not sure what prompted this result. It might be because I popped a White Knight Joker head on the body in jest. Whatever it was, it (
read more...
)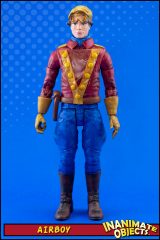 Airboy (Bombshell)
I made Valkyrie. I had to make an Airboy. It's a law, right?* While there have been many minor changes to Airboy's outfit over the decades, depending on the artist at the time, the broad strokes are consistent. I tried to find a happy medium. Airboy's recipe is fairly straightforward. (
read more...
)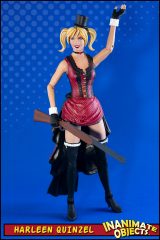 Harleen Quinzel (By Gaslight)
Ms. Quinzel is made from a Diamond Select Westworld Clementine figure. I cut off the front of the skirt, revealing the nicely-sculpted legs underneath. (Though sadly no double-jointed knees.) I added the the wrist cuffs from a DC Essentials Harley. The head and pigtails are from the DC Direct Suicide (
read more...
)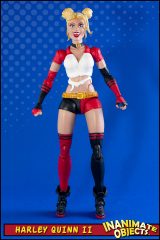 Harley Quinn II (Marian Drews)
SPOILER ALERT! If you haven't read Sean Gordon Murphy's amazing "Batman: White Knight," then please click off this page and come back later. It's for your own good! It's no secret I love this book. Soon as I can figure out the recipes, I'm sure I'll make more characters based (
read more...
)