Two-Face (2008)
Posted on July 24, 2022
Difficulty: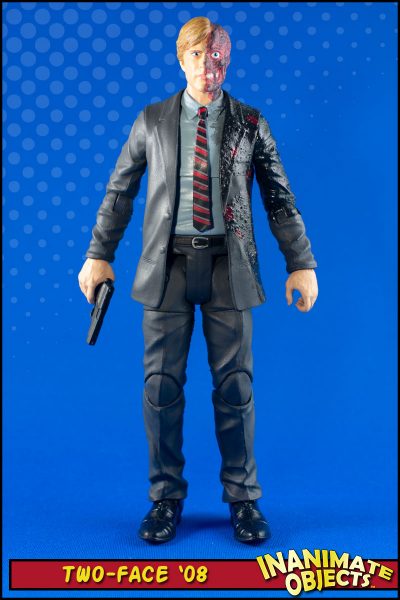 Another project that begin with an eBay purchase! I found a great Harvey Dent/Two-Face 3D-printed noggin from The Dark Knight. There was no question I had to add this to my shelf.
The body is the ubiquitous Diamond Select TV Gotham Jim Gordon. The challenge was creating the burnt half, as depicted in the film. How to create that unique texture? I decided the best and easiest way would be to use some stone texture spray paint. I masked off most of the suit, exposing only those areas I wanted texture applied. There's no clear demarcation in the reference photos, so I eyeballed it, throwing in some randomized edges and shapes.  When it came time to paint over the texture, I applied flat black, straying outside the lines. I followed this with some gloss, also not following any pre-ordained lines or shapes. The result was the random, burnt mess I wanted to achieve. The semi-glossy texture really captures the light.
The only other paint was the tie and the head.
Created May 2022