Riddler (1995)
Posted on July 24, 2022
Difficulty: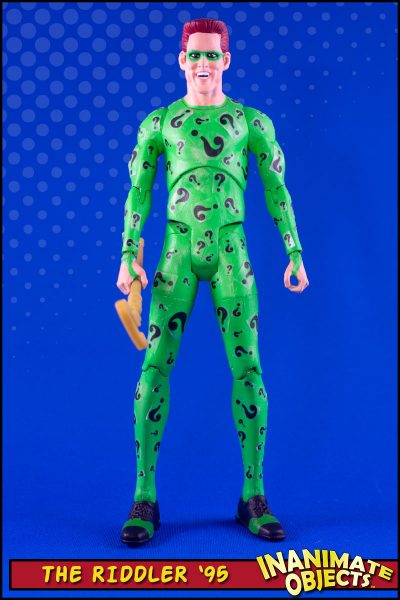 Some projects start out with the best of intentions, but go sidewise somewhere, and there's not much you can do about it. This Riddler is a perfect example.
Once again, I started with a great 3D print of Jim Carrey's noggin as Riddler, purchased on eBay. I needed a fairly skinny 1:10th body to match. That's not as common as you might think. I settled on the recently released Diamond Select Invincible. A bit more muscular than I would like, but close enough.
I started by filling in some of the etched lines, and smoothing out some of the muscles with Magic Sculpt epoxy. I swapped the boots for some shoes I found in fodder. They aren't screen accurate at all, but in the ballpark. Initially I started with a generic comic-style question mark cane (the blue photos), but then I found a movie accurate one I could print.
The elephant in the studio, of course, was all those pesky question marks on his costume. How to keep them pristine and consistent? I did not want to paint them. I should have painted them. Instead I opted to print them on transparent sticker paper and cut them out. I knew it was a risk. All those edges would show. But I thought if I covered them with enough matte gel and various sprays, I could minimize the "edge effect." Boy howdy, was I wrong.
So this is my Jim Carrey Riddler. I meant well, but he looks like he's shedding. Maybe I'll revisit this someday.
Created May 2022