John Blake (2012)
Posted on July 24, 2022
Difficulty: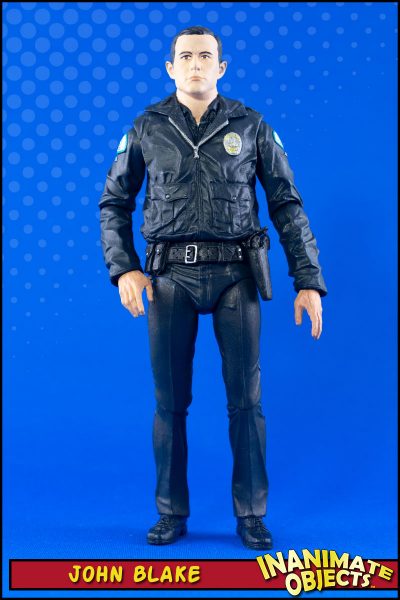 I found a 3D-print of Joseph Gordon-Levitt's head as John Blake on eBay, and saw the opportunity to add the character to my 1:10 Bat shelf.
Once I had the head in hand, I struggled with which outfit from The Dark Knight Rises to reference. I gravitated toward his "detective in the apocalypse" look from the later half of the movie, but I could not find anything that could pass as that coat, and I was too lazy to make it from scratch. So I settled on his officer look. But even what I ended up with is not screen accurate. But it is suggestive of the on-screen look, and I am okay with that.
Ultimately, I blended two NECA Terminator cops together. The legs come from the "regular" version, and the torso, arms, and pelvis come from the motorcycle cop version. (I had one of them in fodder, and bought the other.) Again, the coat is not screen accurate, but it's close enough.
I combined the remaining cop parts back together to act as a central casting cop in the background.
Created may 2022