James Gordon (2005)
Posted on July 24, 2022
Difficulty: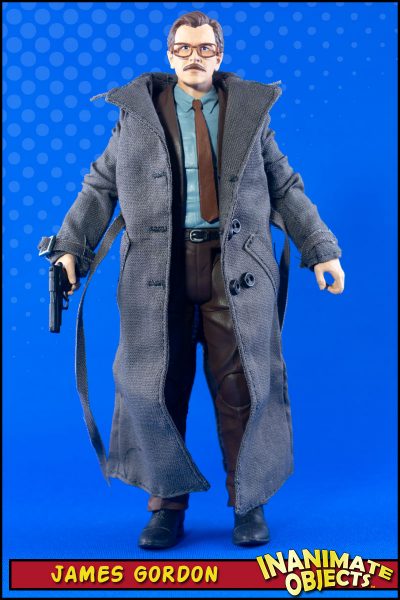 Another custom due entirely to an eBay find! I bought this 1:10 3D-printed head of Gary Oldman as James Gordon, and that meant I had to make the rest of him.
The good news was the near perfect body already existed: Diamond Select's TV Gotham Jim Gordon. All I did was swap the heads and paint the suit and tie. I 3D-printed the glasses.
The coat was a bit more challenging. I buy many such items from GPSLot on eBay. Most of their soft goods items are listed as 1:12, but I've been able to make them work with 1:10 pieces. Until now. The coat I originally bought for Jim would not fit over the cuff of the molded suit, no matter how hard I tried. So I went up a step, and bought a 1:8 coat from Classic TV Toys. And it still barely managed to fit over the suit sleeves! Ultimately, this coat is way too long, but it will do for now.
Created May 2022