Kingpin (2022)
Posted on July 24, 2022
Difficulty: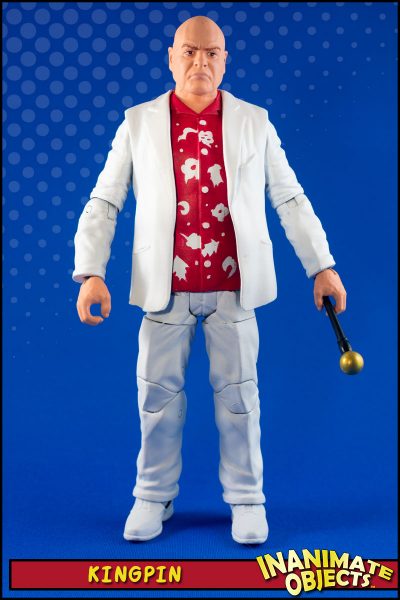 What's this? A Marvel character on Inanimate Objects? To be fair, it's not the first time. But it is rare. (In a perfect world, I'd have room for Marvel and DC toys in my life. My wallet told me I had to pick one or the other.)
I am excited that Disney has shown signs of folding the Netflix Marvel shows into the greater MCU. We very much enjoyed them in this house, especially Daredevil. When Kingpin showed up in Hawkeye, I squealed with delight. Thus when I saw that 3D-printed Kingpin heads were showing up on eBay, I felt compelled to take action. Plus, my lonely Daredevil figure needed someone to fight.
I should warn those of you thinking of doing the same to be wary of what you buy. Initially, I bought some Kingpin heads that were labeled as 1:12.  These turned out to be too small for my 1:10 shelves, as expected. So i found one that was labeled 1:10. It was too big! And clearly meant for the oversized, comic book style, Marvel Legends Kingpin. As I was looking to base mine on Vincent D'Onofrio, that last one would be far too large. I took a chance on a third one. I think it was labeled 1:12, but more specifically for Mezco. That one did the trick.
For the larger-than-average body, I used a Diamond Select Marsellus Wallace figure. I re-sculpted the shirt to create Kingpin's Hawaiian shirt look in Hawkeye. I fitted the head, and the rest is paint. The cane is repainted from fodder supplies.
Created May 2022