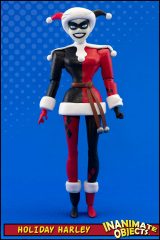 Harley Quinn (Holiday)
I think this is the third time I've made a Holiday Harley based on the "Batgirl Adventures" comic book. I love that book, and I keep deriving inspiration from it, even if that means making the same thing over again in different scales. This 6″ version combines parts from TNBA (
read more...
)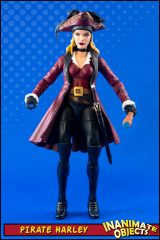 Harley Quinn (Pirate Queen)
Some time ago, I saw a no-paint kitbash project that used the Marvel Legends Elsa Bloodstone figure to craft a female pirate. I knew with a few twists to that recipe that a new career path for our dear, beloved Harley would soon open up. I didn't have to (
read more...
)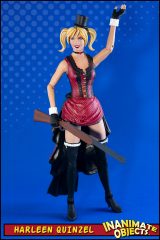 Harleen Quinzel (By Gaslight)
Ms. Quinzel is made from a Diamond Select Westworld Clementine figure. I cut off the front of the skirt, revealing the nicely-sculpted legs underneath. (Though sadly no double-jointed knees.) I added the the wrist cuffs from a DC Essentials Harley. The head and pigtails are from the DC Direct Suicide (
read more...
)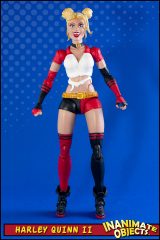 Harley Quinn II (Marian Drews)
SPOILER ALERT! If you haven't read Sean Gordon Murphy's amazing "Batman: White Knight," then please click off this page and come back later. It's for your own good! It's no secret I love this book. Soon as I can figure out the recipes, I'm sure I'll make more characters based (
read more...
)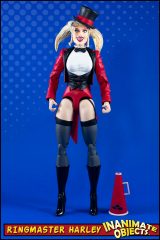 Harley Quinn (Bombshell Circus Ringmaster)
I've had the idea for a Circus Ringmaster Harley in my head for some time. It just seemed like a natural fit. I always figured I'd get around to her sooner or later. She was not a priority. Then a photo of an old Zatanna figure popped up in my (
read more...
)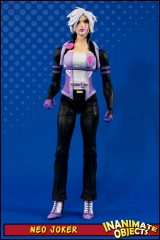 Neo Joker (White Knight)
(Spoilers for "Batman: White Knight" ahead.) One of the many things I love about Sean Gordon Murphy's "Batman: White Knight" is the twist on Harley; there are, in fact, TWO Harleys running around! It's a brilliant solution to resolve a character that has grown so far past her roots she's (
read more...
)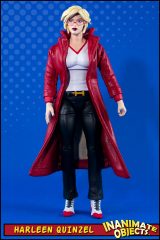 Harleen Quinzel (White Knight)
There is so much to love in "Batman: White Knight." One of my favorite aspects is the depiction of Harley. Sean Gordon Murphy really understands her in ways most current writers of the character do not. Thank you Mr. Murphy! To craft a custom of Harleen, I needed to find (
read more...
)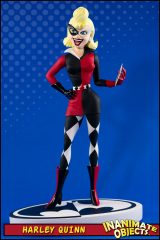 Harley Quinn (Dini Sketch) Colorized
What do you do when you find a DC Collectibles "Black and White" statue on Amazon for a ridiculously low clearance price? You buy it and paint it, of course! This one is based on Paul Dini's infamous sketch of Harley as he wrote the character for the first time. (
read more...
)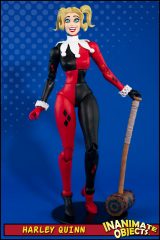 Harley Quinn (Unmasked)
I was one of those that was excited to hear McFarlane had won the license to make DC action figures. His Fortnite offerings proved he could make excellent and fun figures that featured a wide range of articulation. Todd may still love his statues, but the market had changed and (
read more...
)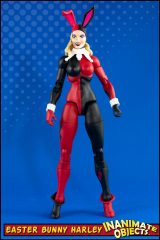 Harley Quinn (Easter Bunny)
Frank Cho is an amazing artist that brings a sense of whimsy and wonder to his art. I have been a fan for many years. Lately he has been tasked with designing alternate Harley Quinn comic book covers. Each one is a gem that tells a little story. My efforts (
read more...
)