Harley Quinn (White Knight v2)
Posted on September 14, 2023
Difficulty: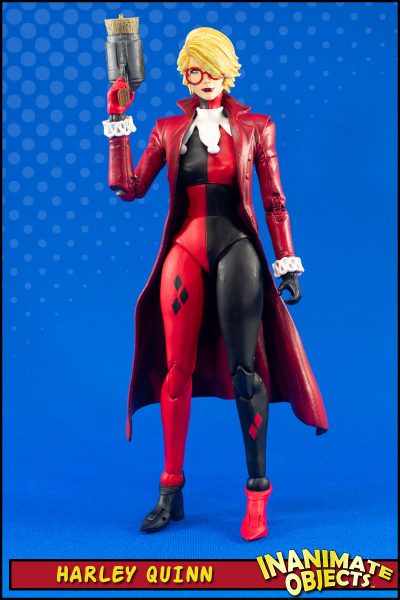 I have already made a White Knight version of Harley in her red coat and glasses, and I am very pleased with it. But I saw someone post this recipe online, and I wanted to try it myself. Can't have too many versions of Harley!
(I can't recall who posted this idea. If it was you or you know who it was, please let me know!)
The body is McFarlane's "animated" Harley, which is a horrible, ugly sculpt. (Those knees!) The coat and sleeves come from McFarlane's Critical Role Percy figure. I admit, this coat is almost a perfect representation of Murphy's art. The head comes a Bayonetta statue 3D file, which I resized and printed. The hair is not near as accurate as my previous version, but it's similar enough. (Really had to trim that mullet to make it fit with the coat.) The glasses are prints I produced in bulk some time ago. The pop gun comes from one of Todd's weapons packs.
Did I need a second version on the shelf? No. Was she fun to make? Yes. Fun wins.
Created June 2023