Harley Quinn Noir (White Knight)
Posted on July 10, 2022
Difficulty: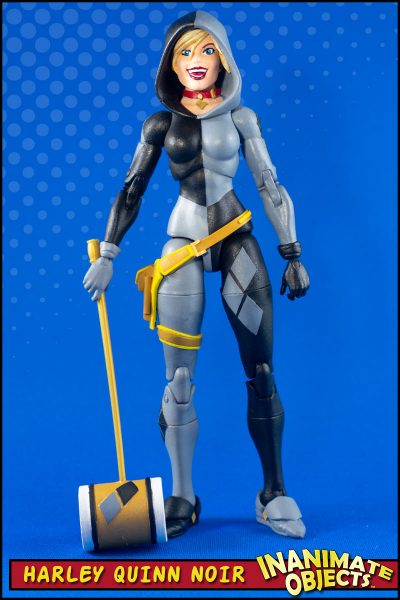 The White Knight books continue to impress me. They almost act as a grown-up sequel to BTAS. Which allows for some great characters development, especially in Ms. Quinzel.
My take on Harley Quinn Noir's look started with the DC Direct Essentials Harley figure. I removed the unnecessary details, and added the sculpted additions to the shoes and gloves. The belt and holster are made from Magic Sculpt, vinyl, and styrene. They are rigged with a magnet in the thigh, such that the belt is not locked to the body, and thus does not impair articulation.
The hooded head is cast from a Bombshells Wonder Woman. The hood itself was 3D-printed, and then Dremeled to fit.
The non-hooded head was 3D-printed from a Harley head I commissioned. The hood down her back is made from a Westworld Teddy's scarf and ProCreate.
The hammer came from Essentials Harley, with a new paint job and a new handle from fodder.
Created May 2022