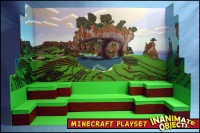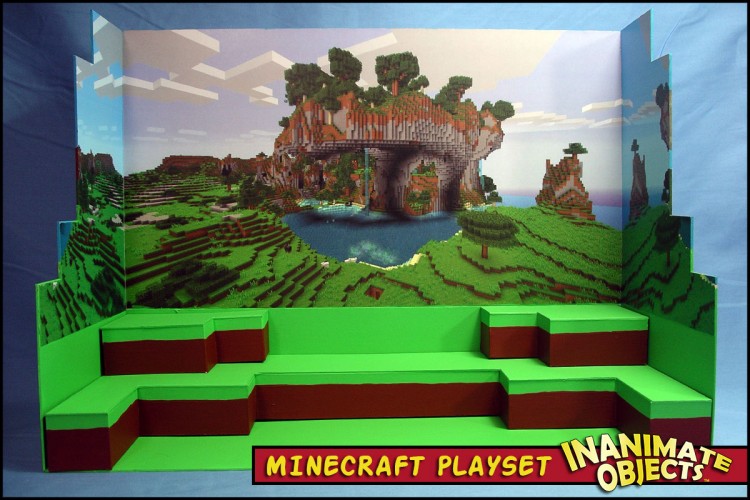 Minecraft Playset
The day has come when the Monkeysaurus is officially asking me to make him toys, and I am more than happy to accommodate! When he watched me preparing the Iceberg Lounge, he requested I build him a playset for his Minecraft toys. (Minecraft is very big in our house.) I (
read more...
)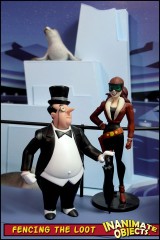 Iceberg Lounge
Ah, the Iceberg Lounge! A wretched hive of scum and… Wait, that's not right. Well, it's still full of ne'er-do-wells. It's just a bit classier than one might expect. I've always enjoyed the interpretation of Penguin as an underworld crime lord posing as a respectable business man. It gives him (
read more...
)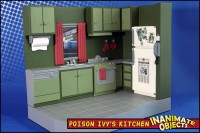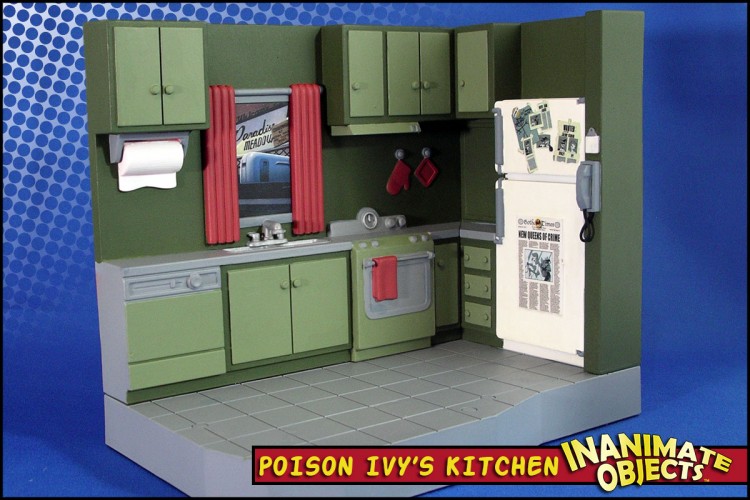 Poison Ivy's Kitchen
Maybe I've watched the episode "Harley and Ivy" too many times, but one day I was struck with how easy it would be to convert a Simpson's kitchen playset to Ivy's suburban kitchen in Toxic Acres. The effort consisted primarily of paint, with new graphics for the window and refrigerator. (
read more...
)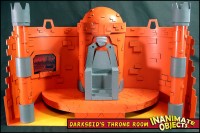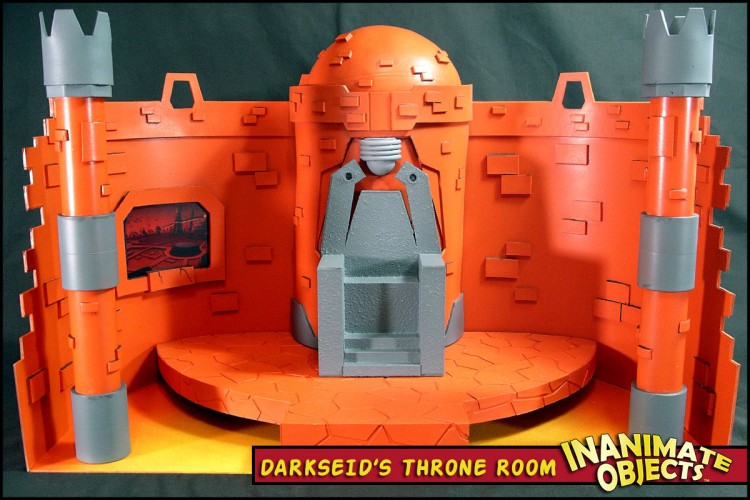 Darkseid's Throne Room
Darkseid's throne room had been in the back of my mind as a project for some time, but it was a gathering of the some of the finest customizers for the New Gods showcase that gave me the excuse to make it. Like all playsets of this nature, the first (
read more...
)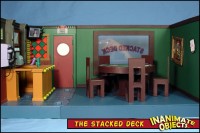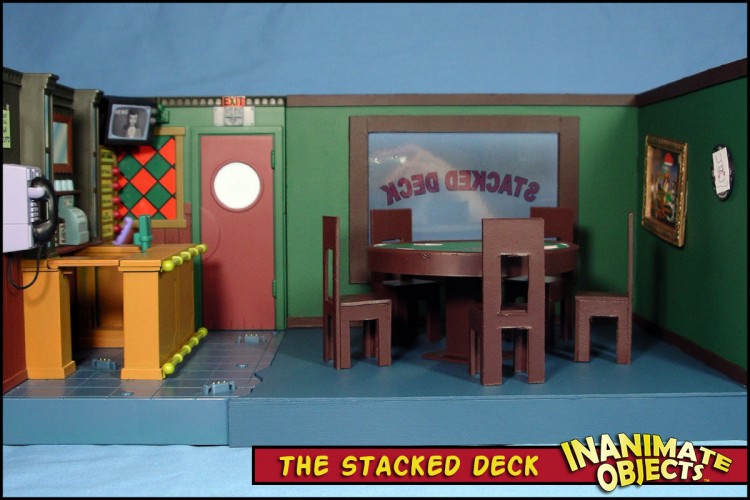 Stacked Deck
I've wanted to make a Stacked deck playset for many years now. It shows up in several episodes of Batman: The Animated Series, most prominently in Almost Got 'im, Batgirl Returns and Beware the Creeper. Years ago I thought a good base for the Stacked Deck would be the Moe's (
read more...
)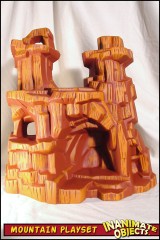 Mountain
This hunk o' plastic was found at a garage sale. I'm reasonably sure it was part of a typical green army man set. It was vaguely rock shaped and molded in pale grey plastic, but that's all that could be said for it. My first thought was to augment the (
read more...
)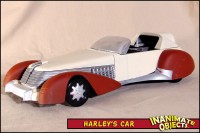 Harley Quinn's Car
Harley's car is just a simple repaint of the Shadow car, from the movie of the same name. The secret rocket engines in the back still work, and so does the missile in the front. Harley sat too low in the car, so I built her a small booster seat (
read more...
)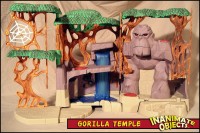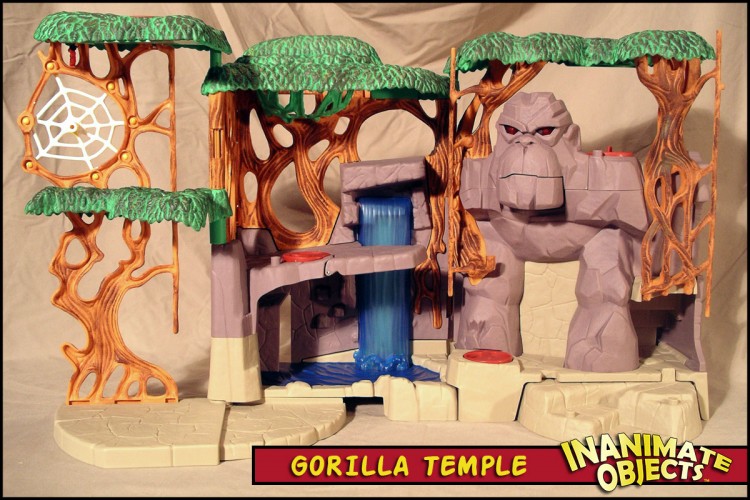 Gorilla Temple
"Shortly after the founding of Gorilla City, a team of gorilla archaeologists discovered a hidden, ancient temple just outside the city's outskirts. Such a discovery set off a great deal of controversy, as the temple dated back thousands of years before the citizens of Gorilla City had been bestowed with (
read more...
)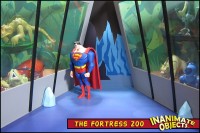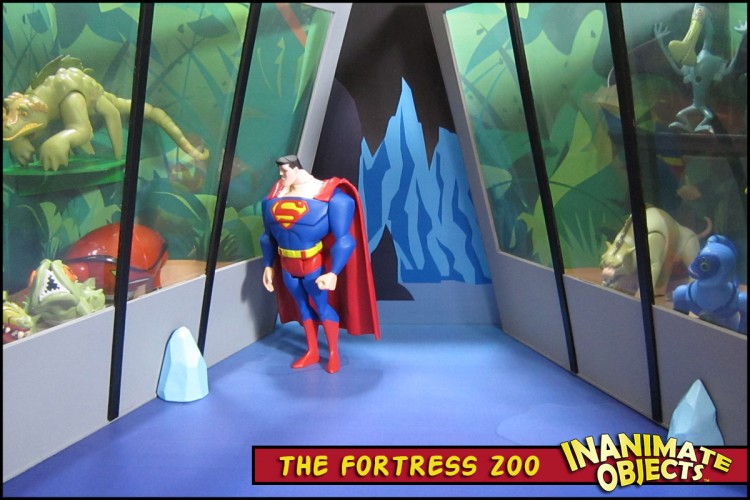 Fortress of Solitude Zoo
I've been pondering how to make a Fortress of Solitude Zoo for many years. The problem is how to create the illusion of a vast space in a much smaller space. That's no easy task. After Quartermain created his amazing Krypto, I was on the look out for some Secret (
read more...
)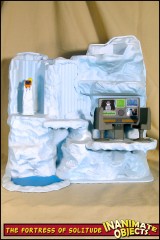 Fortress of Solitude
Batman has always had a Batcave playset of some kind, but I'd never seen anything made representing a place for Supes to hang his cape. I wanted to correct that oversight. I thought about a FOS for a long time before realizing the answer was staring at me from my (
read more...
)