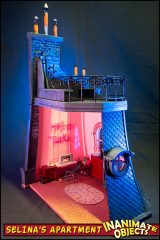 Selina Kyle's Apartment
In February of 2020, Playmates unveiled a new playset for the Miraculous Ladybug series. (It's a French super hero show.) Obviously, it was meant to invoke a Parisian apartment, and as far as modern playsets go, it's a solid design. But I didn't see Paris. I saw Gotham. Specifically, I (
read more...
)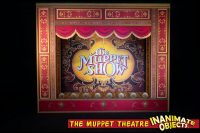 Muppet Theatre
Here's another one of those projects that was decades in the making. At least four. Those of us who loved and collected the Palisades Muppet line of figures back in the day were disheartened that we never got a Muppet Theatre stage set before the company imploded. (Assuming such a (
read more...
)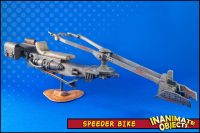 Speeder Bike (Mandalorian)
This speeder bike, as seen in two episodes of the Mandalorian, was one of my first forays into 3D printing. I had access to a filament printer for awhile, and chose this as a reasonable learning project. I consider it a partial success. In-hand, it's rough. I clearly have a (
read more...
)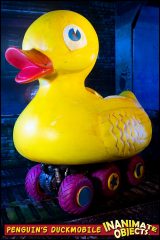 Duckmobile
Ideas for customs can appear at weird times and places. A few weeks back I was brushing my teeth, when my brain suddenly asked "Hey, has anybody every made an over-sized rubber duck?" What prompted that inquiry, I cannot say. Nonetheless, 5 seconds on Amazon answered that question with a (
read more...
)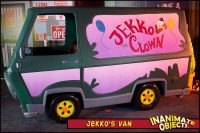 Jekko's Van
I can't stand anything to do with Scooby-Doo. Let's just get that out of the way. But when I see a Mystery Machine that's a decent scale and price, I have to wonder what else I can make from it. Honestly, when I bought the Mystery Machine, I didn't have (
read more...
)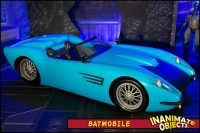 Batmobile (1970s)
Thanks to the magic of the internet, it is now possible to learn about toys I never knew of in decades past, discover how they can be modified to meet current needs, and then actually find said items for purchase. Thanks to Ninjaburger1 over on the Fwoosh forums, I learned (
read more...
)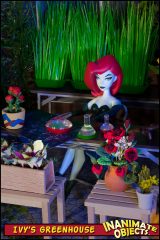 Poison Ivy's Greenhouse
There have been many occasions when I wanted to photograph a particular scenario, but then realized I couldn't because to do it properly would require a greenhouse setting. I mulled this over for a couple of years before I settled on a course of action. What I would really like (
read more...
)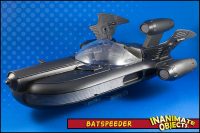 Batspeeder
The Batspeeder was not in the original plan for "Gotham Wars," but I came across a Black Series landspeeder on clearance, and it just spoke to me. Funny how projects expand like that. The detail on the landspeeder is fantastic! They managed to replicate all the damage seen on screen. (
read more...
)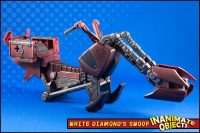 Swoop
As "Gotham Wars" took shape in my head, I knew White Diamond would need a ride with which she could pull the Carbonite block. I asked around, and some of the folks on Fwoosh recommended this piece from Hasbro's "Hero Mashers" line. At first glance, I thought it was too (
read more...
)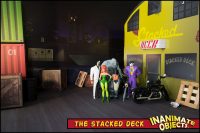 Stacked Deck (Exterior)
The various cardboard backdrops and sets produced by Extreme-Sets have been a real boon to toy photographers. I've really enjoyed rotating the sets into the mix. One of those sets plays the part of a dock, complete with shipping containers and crates. Once I saw the advanced photos of the (
read more...
)