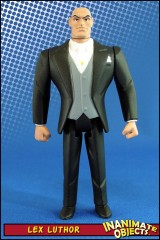 Lex Luthor (Prototype)
Another kit made from cast parts. I simply painted him to match his show colors. The jury is still out as to whether or not this version is more screen accurate than the mass produced one. I suspect the true answer lies somewhere in between. Though I think I prefer this (
read more...
)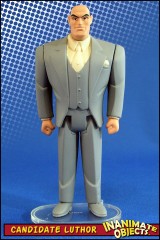 Lex Luthor (Presidential Candidate)
Not much to see here. It's simply a Mattel Lex Luthor repainted in his alternate suit, most often seen in JLU during his presidential campaign. Clean and simple. Created April 2013 (
read more...
)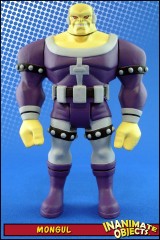 Mongul
Ultimately, Mongul was released by Mattel. But back in the day, we were told the line was dead, and this prototype slipped out. Castings were made, and this was my copy. I'm glad I chose the grey stripes color scheme, as the released version uses the black stripes. Best of (
read more...
)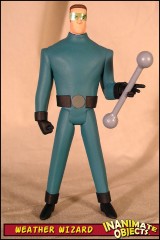 Weather Wizard
Weather Wizard is another one of those not-to-difficult customs that I've been meaning to make for ages, and am only now getting around to. His base is Mattel's Two-Face. The slightly smaller scale means he fits in well with his Secret Society cronies. Magic Sculpt was added to fill in (
read more...
)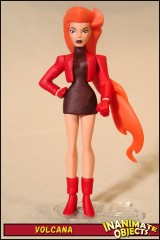 Volcana (STAS)
Many long time readers are familiar with my "curse": I customize a character, and then an official release is announced. A few years ago I made my first JLU Black Canary. A few months later Mattel's version was in my hands. (Though it needed to be fixed, in and of (
read more...
)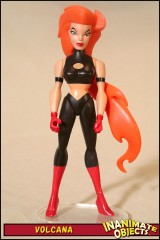 Volcana (Only a Dream)
Not much to see here, folks. Just a repainted face. Seems Mattel's cost-cutting efforts include dropping basic features like EYEBROWS. (And properly painted eyes and lips.) I didn't want to paint the whole figure, so I masked off the body and sprayed the head and hair with Dullcote. This acted (
read more...
)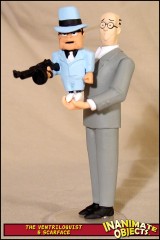 Ventriloquist & Scarface (TNBA)
Step by step, figure by figure, I get closer to filling out the ranks of both the old and new school villains. These two were tough ones that eluded me for years. I made several attempts over the years, but I could always tell early in the process the final (
read more...
)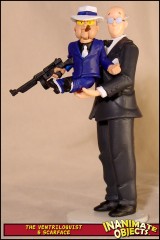 Ventriloquist & Scarface (BTAS)
With Hasbro in its death throes regarding the Bats license, all kinds of interesting things are making their way into the world. The most recent is the fan favorite Ventriloquist and Scarface. Scarface and Venty's torso are excellent old school sculpts. The paint scheme's are random though. The only truly (
read more...
)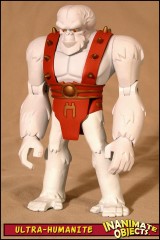 Ultra-Humanite
I always thought that Ultra-Humanite was one of the best sculpts Mattel created for the JL line. Except for his height! It's a terrible shame that a basic characteristic of a figure can be altered to meet the needs of the packaging. I finally got sick of seeing a short (
read more...
)
Ubu (TNBA)
Ubu is part of my "lost wave" of figures. Like the others in this wave, he was fully sculpted almost two years before he was painted. New School Ubu is yet another variation on the Bane recipe. His Torso is the Batman beyond Happy figure, while the legs are a (
read more...
)