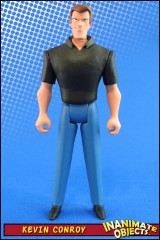 Kevin Conroy (I)
In May of 2012, Kevin Conroy was scheduled to make an appearance at a local show here in Dallas. I was not planning on attending the show, until a friend talked me into making a custom of Kevin Conroy (THE voice of Batman, as far as many of us are (
read more...
)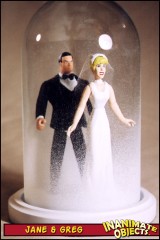 Jane & Greg
I was honored when my good friend Jane asked me if I'd make toy representations of her and her soon-to-be husband Greg to sit atop their wedding cake. Since this was the first time I would be attempting to make figures based on real people, I relished the opportunity. The (
read more...
)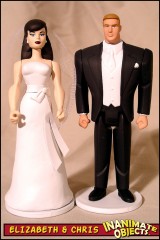 Elizabeth & Chris
Congratulations to Elizabeth and Chris! My friend Elizabeth asked me to make caketoppers for her wedding, and I was happy to oblige. I wish them both all the happiness in the world. Chris is made from a Mattel Luthor body, and a Hasbro Luthor head. His hair is Magic Sculpt. (
read more...
)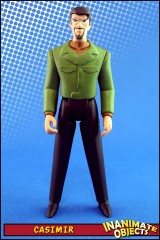 Casimir
Making a custom figure of one's self always seemed a bit silly to me, unless there was a good reason. Well, here at Inanimate Objects, I have a darned good reason! That reason is the Violist, and the Violist figure needed some company. Thus Casimir is now immortalized in plastic. (
read more...
)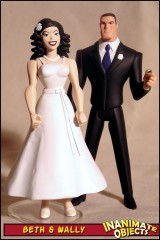 Beth & Wally
Beth was my dance parter for a long time, back when I was dancing as often as I was customizing. We had some great times on the dance floor. Needless to say, I was quite pleased when she told me she'd found a fella worth settling down with. Wally is (
read more...
)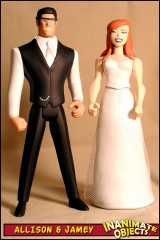 Allison & Jamey
Allison and Jamey were fun figures to make, as they presented some new challenges. Jamey had chosen to wear a vest without a jacket. Thanks to the odd sculpting choices of Mattel, their animated Two-Face figure fit the bill, requiring minimal sculptural changes on my part. I did swap the (
read more...
)