Kevin Conroy (II)
Posted on July 6, 2013
Difficulty: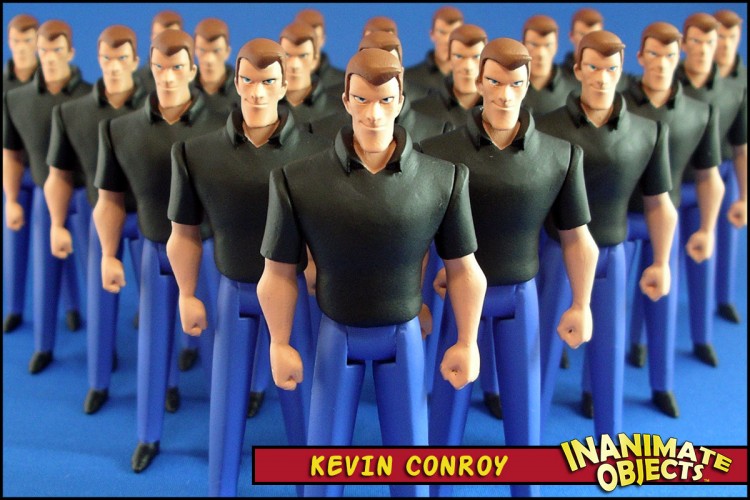 Some time ago I crafted a custom action figure of the multi-talented Kevin Conroy, and presented it to him as a gift. You can read all about that tale here. This is the sequel.
About three months ago Mr. Conroy contacted me and asked if I could produce additional copies of the Kevin Conroy custom. Needless to say I was flattered and honored! After some discussion I learned he was hoping for 20 copies. 20!  That was a tall order. I'd made doubles of my creations before, but never 20 at one time!
I asked Stew to help duplicate the parts. I would craft a new template from scratch, and Stew would mold and cast. I'd then assemble and paint the final figures.
So I sat down to customize Kevin Conroy version 2.0.
While I waited for all the parts to arrive, I set about designing the package art. This presented another puzzle, as version 1.0 used a re-sealable plastic blister used by DC Direct in the early 2000s. I no longer had any of those older cases available. I really struggled with how to create a new package without spending a fortune. I finally settled on the ProTech Star Cases. These are normally used to house carded vintage Star Wars figures, but the size was appropriate.
Now that the outer package was solved, I had to figure out how to secure the figure inside. Unlike the first version, I had no inner tray. Even if I had one, I needed 20. After some time I worked up a mini "box" feature in which the figure would be secured to the card art directly via a twist tie. It was a fair compromise.
The castings arrived. I was now staring down the barrel of 20 identical figures to paint. Oy! The process took a few weekends, but they all got painted. And they're reasonably identical. Probably more so than manufactured toys.
I also wanted to include the Bat-cowl as an accessory, to match 1.0. Again, I had no tray to work with. Inspiration came from my little boy's collection of Star Wars squinkies, or squeakies, or whatever they're called. Some of the larger packs use tiny trays for each figure. I had to pilfer a couple of future Christmas presents, but in the end I managed to find 20. Hot glued secured the mini-tray to the card.
Then it was just a matter of assembly and shipping.
Anyone who has followed Mr. Conroy's career knows he is a class act, and he proved that again with me. He was a delight to work with.
Thanks to Mr. Conroy for the opportunity. It was an honor.
Thanks to Tyke and Peter for allowing me to bounce ideas off of them.
Created October 2012