Elizabeth & Chris
Posted on July 6, 2013
Difficulty: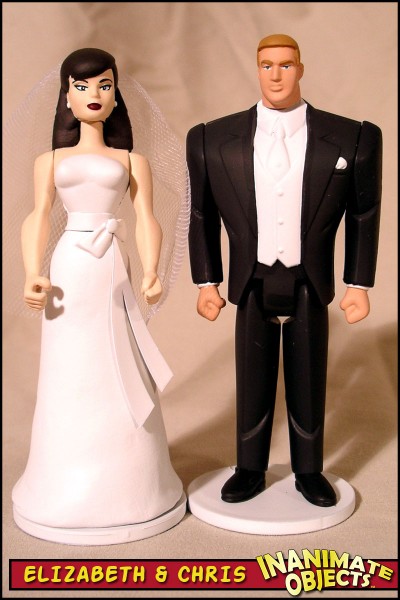 Congratulations to Elizabeth and Chris! My friend Elizabeth asked me to make caketoppers for her wedding, and I was happy to oblige. I wish them both all the happiness in the world.
Chris is made from a Mattel Luthor body, and a Hasbro Luthor head. His hair is Magic Sculpt.
Elizabeth started as a Hawkgirl figure, with the wings removed and a dress made from Super Sculpey. The belt and sash are cut from vinyl, and the bow is magic sculpt. Her head is a Lois Lane noggin, which was a near perfect match for Elizabeth's face and hair. I added some curls to the back, and a veil made from tule.
Congratulations to the happy couple!
Created Spring 2006