Jane & Greg
Posted on July 6, 2013
Difficulty: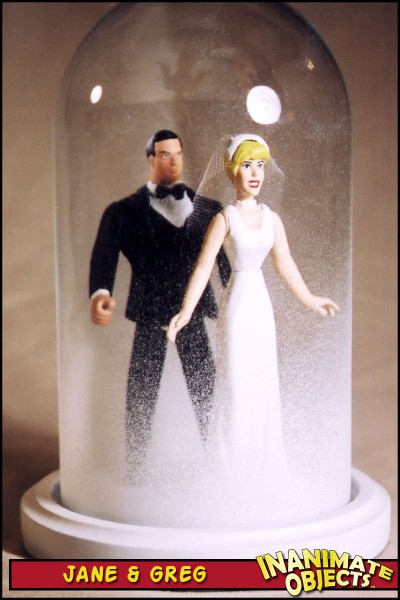 I was honored when my good friend Jane asked me if I'd make toy representations of her and her soon-to-be husband Greg to sit atop their wedding cake. Since this was the first time I would be attempting to make figures based on real people, I relished the opportunity.
The first step involved obtaining photographs of the charming couple, as well as the dress and the tux. Once I had a general idea of how they intended to dress, I had to find base figures that came close to their outfits. For Greg, I chose the old school animated Two-Face body. I simply had to sculpt the vest and tie. His head is an animated Luthor, with sculpted hair. (I'm sure Greg is happy to know he has more hair than Lex Luthor.) His glasses are cut from a figure package bubble.
Jane's base is the fancy dress Anastasia figure. (Thanks Mark!) I removed the train piece, as it wasn't necessary. I trimmed Ana's hair, and resculpted it to closer resemble Jane. I also sanded off the "edge" of Ana's sleeves, as Jane would not be sporting any. Finally, her headband is simply Kneadatite, holding in place a small piece of cut tulle, acting as the veil.
The frosted dome was Jane's idea, having seen my Nora Fries custom. I think it added some charming elegance. The dome itself is a simple bell jar from the craft store. After masking off the bottom (so as to not paint the inside), I hazed the lower portion of the jar with white primer. I'm happy to report the figures were a big hit at the wedding party.
Created Summer 2000