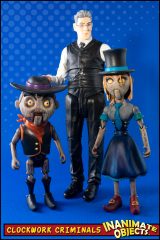 Ventriloquist (Western)
I always say you never know when or where an idea for a custom(s) will come from. In this case, it came from my good pal Pix, who found this Showdown Bandit figure on clearance. Mr. Bandit already had the facial scar. Pix suggested the figure would somehow work as (
read more...
)
Site Update: March 26, 2021 Penguin Returns
I normally prefer to wait until I have a batch of customs finished before I update the site. But I am making an exception for these two, because I am so excited to share them. It's rare that I get to add a vehicle to the roster, much less one (
read more...
)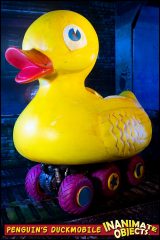 Duckmobile
Ideas for customs can appear at weird times and places. A few weeks back I was brushing my teeth, when my brain suddenly asked "Hey, has anybody every made an over-sized rubber duck?" What prompted that inquiry, I cannot say. Nonetheless, 5 seconds on Amazon answered that question with a (
read more...
)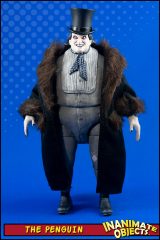 Penguin (Batman Returns)
In its final days of their having the DC license, Mattel finally bestowed upon the fans a 6″(ish)-scale Penguin from "Batman Returns." It was hardly perfect, but better than nothing. (They had previously released a 3.75″ version using a superior sculpt. Why not re-use those files?) The version Mattel released (
read more...
)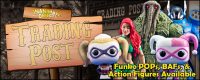 Trading Post
Time to open up the ol' trading post again. Please read the simple instructions below. Failure to follow these instructions will see your request deleted without a second thought. Please request items by item number. See the big yellow number in the red circle in each photo? That's what you (
read more...
)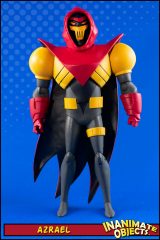 Azrael
"Batman: The Adventures Continue" was announced with much fanfare. Suddenly, the previously solicited figures of characters that never appeared in the show made sense. Sadly, despite the impressive creative team, the comic book did not live up to expectations. I should probably stop talking about it now. When DC Direct (
read more...
)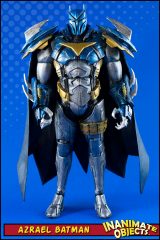 Batman (Azrael)
It's no secret I love Sean Gordon Murphy's "Batman: White Knight" books. His introduction of Jean-Paul Valley is arguably better than the original. And of course I dig the costume designs. Thankfully, Todd McFarlane knocked those out of the park where the figures are concerned. I had seen some folks (
read more...
)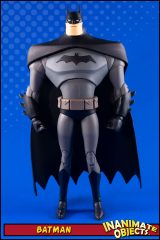 Batman (McFarlane TNBA)
When Mattel lost the DC license to Todd McFarlane, I was very excited. Todd had demonstrated that he had moved beyond his weird pseudo-statue phase with his Fortnite figures. I have no interest in the game, but the figures were some great toys. And generally speaking, I have really enjoyed (
read more...
)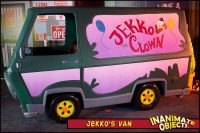 Jekko's Van
I can't stand anything to do with Scooby-Doo. Let's just get that out of the way. But when I see a Mystery Machine that's a decent scale and price, I have to wonder what else I can make from it. Honestly, when I bought the Mystery Machine, I didn't have (
read more...
)
Site Update: February 7, 2021 Jingle Belle Goes to Gotham
Time for some animated goodness! Kitsune Nozawa Holiday Harley Quinn Jingle Belle The Condiment King And, as usual, the photo archive has been updated. UPDATE TO THE UPDATE! Yes, it's true. There's more to see! Animated Azrael Batman (Azrael) "White Knight" Todd McFarlane TNBA Batman Jekko the Clown's Van Casimir February 2021 (
read more...
)