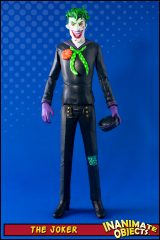 Joker (Bombshell Sailor)
Anyone who follows my exploits knows the inciting incident that led to me making customs of the DC Bombshells was that DC Direct was in turmoil, and prematurely cancelled the line after several figures had been solicited and promised. 40+ customs later, I am pleased to announce this particular Joker (
read more...
)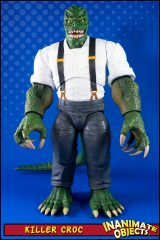 Killer Croc (Bombshell)
Now here's a custom that I pondered for a long time. Good ol' Waylon Jones appears in the Bombshells comic as part of the Suicide Squad, and Ant Lucia, primary designer of the Bombshells, even designed a cover with the Squad and Croc. So if you haven't seen this design (
read more...
)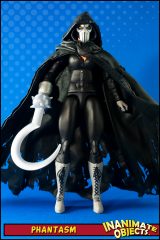 Phantasm (Bombshell)
This custom started from a challenge to myself: What could I build (mostly) from leftover parts? The result is my take on a Bombshell Phantasm. The torso is Bombshell Batwoman. The arms are from a Marvel Legends White Rabbit. The legs are Bombshell Batgirl. I sculpted a few details with (
read more...
)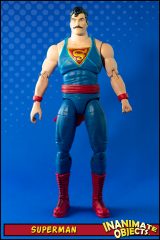 Superman (Bombshell)
This is another custom project where the whole thing depends on the base figure. I needed to find a male figure, 7″-scale, "heroic" without being bulky. That's actually quite tough to find. And I was looking for quite some time. One day I'm in a Target, and I stumble across (
read more...
)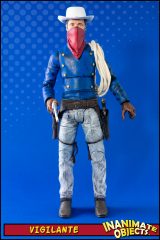 Vigilante (Bombshell)
Vigilante seemed like another one of those characters that would have been a perfect fit in the Bombshell universe, but was never used in the comic. I am here to correct that oversight. The base figure is Diamond Select's Westworld Teddy Flood, a most versatile fodder figure. I removed the (
read more...
)
Site Update: June 12, 2021 Inanimate Objects Goes West
I have expanded my Western/Gotham by Gaslight sub-line with a few new additions: Bat Lash Smilin' Jack (Joker) Professor Wesker and his Clockwork Marvels (Ventriloquist) And if you missed the first batch: Harleen Quinzel by Gaslight Selina Kyle by Gaslight Pamela Isley by Gaslight And, as usual, the photo archive has been (
read more...
)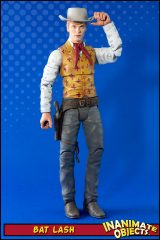 Bat Lash
Bartholomew "Bat" Aloysius Lash was a DC character that first appeared in 1968. (And for those of you too young to even have a clue who he is, no, he's not even remotely related to Gotham or Batman.) Back then Western/cowboy comics were still a thing, and Bat Lash fit (
read more...
)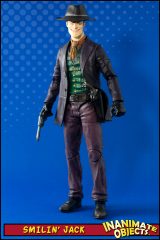 Joker (Smilin' Jack)
Sometimes customs happen because I happen to have parts spread out on the workbench, focusing on solving an unrelated issue, when I see two parts that I simply must try to put together. In this case is was Mcfarlane's White Knight "Jack" head on a Diamond Select Westworld Man in (
read more...
)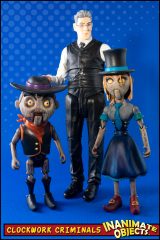 Ventriloquist (Western)
I always say you never know when or where an idea for a custom(s) will come from. In this case, it came from my good pal Pix, who found this Showdown Bandit figure on clearance. Mr. Bandit already had the facial scar. Pix suggested the figure would somehow work as (
read more...
)
Site Update: March 26, 2021 Penguin Returns
I normally prefer to wait until I have a batch of customs finished before I update the site. But I am making an exception for these two, because I am so excited to share them. It's rare that I get to add a vehicle to the roster, much less one (
read more...
)