Site Update: July 15, 2020 Batman White Knight
It's the third major site update this year! Y'all are gonna get spoiled. It's a bevy of White Knight customs! And Punchline joins the Bombshells. Batgirl (White Knight) Commissioner James Gordon (GTO) Harleen Quinzel (White Knight) Jack Napier (White Knight) Joker (GTO) Joker (White Knight) Neo Joker (White Knight) Nightwing (
read more...
)
Site Update: June 5, 2020 Bombshells Class of 2020
It's a whole new batch of Bombshells! Including some classic Golden Age characters. Big Barda Black Phantom Gsptlsnz Lois Lane Mxyzptlk Phantom Lady Talia al Ghul Valkyrie Whew! That was a lot of work in a short period of time. I think I am way ahead of schedule! (Famous last (
read more...
)
Site Update: March 26, 2020 Femmes Fatales
It's time for a new batch o' custom goodness! Twelve new pieces to share: Catwoman '92 Catwoman (Bombshell 2) Catwoman (Year One) Harley Quinn (Easter Bunny) Harley Quinn (Bombshell 2) Harley Quinn (Unmasked) Joker '89 Lara & Michael Lois Lane (Eradicator) Poison Ivy (She-Devil) Talia al Ghul (Classic) And, as (
read more...
)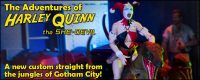 Site Update: November 16, 2019 Harley Quinn the She-Devil
It's rare that I post only one figure as an update, but this one deserves her own. It's Harley Quinn, as you've never seen her before! You'll find her in all her jungle-inspired glory right here! And, as always, the photo archive has been updated. Enjoy! Casimir November, 2019 (
read more...
)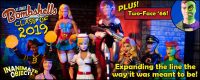 Site Update: July 15, 2019 Bombshells Class of 2019
It's time to unleash some more Bombshells! As you can probably tell, I was thoroughly disheartened with DC Collectibles' decision to cancel the final six figures. With this batch, I have now crafted stand-ins for five of those six. (I'll get around to Joker eventually.) Naturally, I would have preferred (
read more...
)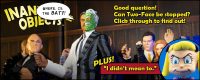 Site Update: May 24, 2019 Two-Face '89
What's this? A second update of new content in less than a week? It's a Gotham miracle! Revisit the Gotham City of 1989. Then stop by and say hello to Baby Doll. (She's been expecting you.) Two-Face '89 Bruce Wayne '89 Baby Doll (BTAS) Also, the Photo Archive has been (
read more...
)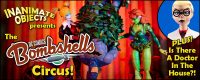 Site Update: May 18, 2019 Bombshells Circus
It's been 9 months since the last site update. In that time, I've had a pile of customs develop. I am diligently working on them all, as time allows. I can't wait to show them off! But these three are ready now, so I thought it might be best to (
read more...
)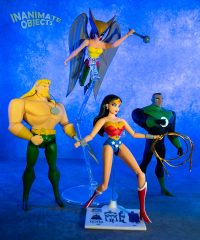 DC Collectibles Animated Justice League Wave 1 Review
The DC Collectibles Animated Justice league figures via the DC Universe app are starting to show up. Given the unusual nature in which the figures are being released, many potential customers are on the fence as to whether these are worth the extra cost and hurdles associated with purchasing them. (
read more...
)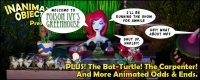 Site Update: August 12, 2018 Poison Ivy's Greenhouse
Poison Ivy has taken over Inanimate Objects, and everything is overrun by plants! Quick! The only way to stop her is by checking out all the new customs in this update! Batgirl (TNBA with cape) The Carpenter Catwoman (Concept Design) Clayface (BTAS) Poison Ivy's Greenhouse Mikey "Batturtle" Poison Ivy (BTAS) (
read more...
)

Photo Archive
Inanimate Objects consists primarily of photographs of custom figures. From time to time, though, I dabble in toy photography that is less custom-centric. To date I've posted these images to social media, but that's hardly an efficient means of communication. Twitter is just a mess with no organization. Facebook denies (
read more...
)