Trading Post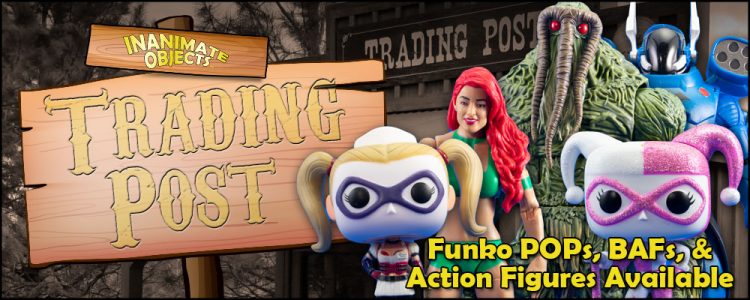 Time to open up the ol' trading post again. Please read the simple instructions below. Failure to follow these instructions will see your request deleted without a second thought.
Please request items by item number. See the big yellow number in the red circle in each photo? That's what you want. If you say "I would like to buy the POP Harley," I won't have any idea what you're talking about.
Prices are crazy low. You won't see these prices on eBay. So I'm not really interested in haggling. That being said, if you want to make my life easier and buy a whole mess of items (we're talking dozens), then I am willing to cut a deal.
What you see is what you get. If it's not in the photo, it ain't there. (So pleased don't ask if a figure comes with accessories not shown.)
Alternatively, this is a Trading Post. So let's trade! Things I am looking for include:

King Shark BAF right arm, right leg, pelvis, "normal" head (non-hammerhead)
Justice Buster BAF right leg, right arm, head
M'Baku BAF left leg, right arm, left leg
DC Collectibles Bombshells figures, especially Poison Ivy
DC Collectibles Animated Batman figures, especially the female characters (that goes double for Zatanna)
Catwoman from the DC Collectibles New 52 "Super Heroes vs. Super Villains" boxed set
Maven Collectibles Superheroine Blank figures, "athletic" in either scale
Diamond Select Westworld figures, especially Clementine and Teddy
Diamond Select Marilyn Munster (color or greyscale)

Buyer to pay actual, genuine shipping costs. I am not out to rob anybody. But I'm also not a big company that can arrange for subsidized shipping costs. I usually use USPS Priority Mail, but I can try otherwise upon request. I won't know the shipping cost for any order until it's settled and I can weigh the end result. But Priority Mail usually starts around $8.65 or so. You'd have to buy a whole bunch of stuff to get past that. So yeah, $8+ shipping on a $3 BAF part seems silly. But buy several and you have yourself a bargain.
Outside the U.S.? Shipping is gonna be unpleasant, no doubt. But we can try.
I can accept PayPal, Zelle, Venmo, and even CashApp. We can discuss details.
I am just one guy, at home, with lots of responsibilities. None of this is automated. I promise I will respond as quickly as I can. If that's not fast enough for you, then please don't bother asking for anything.
First come, first serve. I will do my best to accommodate everyone in turn. Also, I will try to delete items from the page as they are sold.
See rule #1.
Still interested? Drop me an email at tradingpost@pilliod.net.
---
FUNKO POPS
$10 each. (Harley and Joker Beach set sold as a pair for $20.)
---
ACTION FIGURES
Man-Thing is $50. Everyone else is $5.
---
Build-A-Figure Parts
All parts are $3 each.