Site Update: February 22, 2022 3D Prints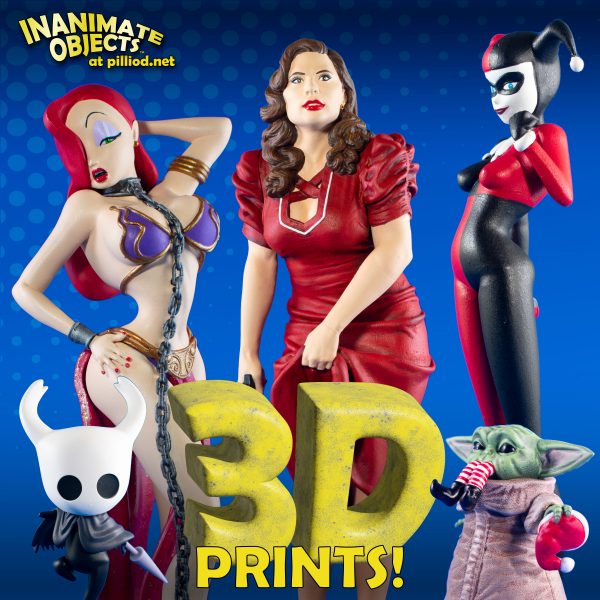 I finally started to dabble with 3D printing about a year ago. For a few months I had access to a filament printer. After weeks of experiments, I had very little to show for my efforts. It was a frustrating experience.
A few months ago, though, I took a chance and invested in a Elegoo Mars 2 Pro resin printer. This experience has not been without its challenges, but the end results have been so much more rewarding! I still have a great deal to learn, and I suffer the occasional failure, but on the whole I feel I have a much better handle on resin printing.
(Over Christmas I took another chance and invested in a large Creality Ender 5 Plus filament printer. That was also an abysmal failure, and was subsequently returned. I guess filament printing is not for me.)
What I am posting today are the first finished pieces from my time with the M2P. I already have so much more to paint! If I didn't print another thing, I easily have enough printed pieces to keep me occupied for a couple of years.
As much fun as printing and painting statue is, I have three goals I'd like to achieve:
I'd really like to apply 3D printing to my action figure customs. I've managed to adapt a few heads and print those for upcoming projects. Ultimately I'd like to design my own parts, which leads to…
I need to learn Blender. I've cracked it open. I reminds me of the first time I actively looked at Photoshop in 1997. Intimidating! In the long run, I'd like to design my own parts such that I can also share files and/prints.
I want to print BIGGER! The M2P is great, but I am straining against the size imitations. I have amassed a small army of files consisting of sets and vehicles (Batmobiles!) that I very much want to see on my shelf. Since the big filament printer didn't work out, I am currently waiting for the Elegoo Jupiter to become available at regular retail. Must be patient.
In the meantime, please enjoy these early projects. I have tried to give sculptor credit where and when I knew it. In some cases, I simply don't know. If you do, please contact me so I can give proper credit.
Casimir
February 2022