Jessica Huttslayer
Posted on February 22, 2022
Difficulty: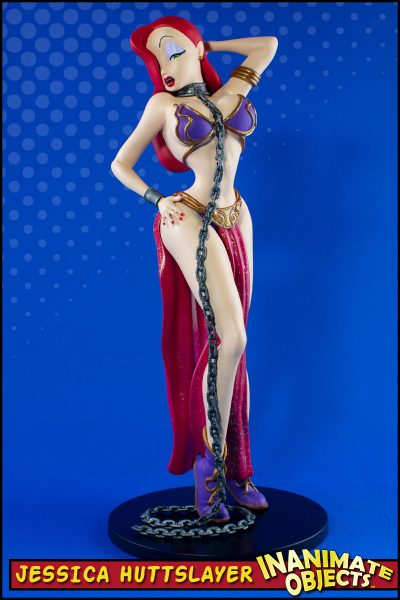 Batman and Star Wars are in my DNA. Ghostbusters, Back to the Future, and Muppets are a part of me. But perhaps less obvious is my love of "Who Framed Roger Rabbit." I spent the summer of 1988 in the theatre, over and over again, absorbing every cel. "Avengers" ain't got nuthin' on this crossover. This one had characters from competing studios! We'll never see the like again.
So yeah, among my many collections is s sub-section of Roger and Jessica stuff.
When I came across this Jessica/Leia mashup, I had no choice but to print and paint.
The original 3D sculpt is by Messias Scrap. A true talent! (Some of it is NSFW, so be warned.) He's got Jessica as the Huttslayer in an alternate pose, too.
I appreciate that Messias Scrap stayed true to Jessica's animation model, especially her head and face. Too often folks get that wrong.
The final print would not stand on her own, so she's glued to a wide action figure stand.
Created December 2021