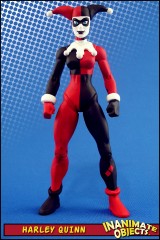 Harley Quinn (McG Style)
It seems when I start to make one Harley, I can't help but make more. Though in retrospect, I don't recommend painting multiple variations of that costume at one time to anybody. I love the Ed McGuinness figures by DC Direct. Yeah, they can be corny, and the some of (
read more...
)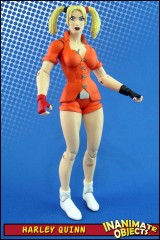 Harleen Quinzel (Arkham Asylum Inmate)
I have enjoyed the heck out of the Arkham Asylum and Arkham City games. They're effectively a CGI, "realistically" rendered extension of the animated series. I also enjoy the art of Carlos D'Anda, who was a character designer on the game, and also illustrated the Arkham City comic (written by (
read more...
)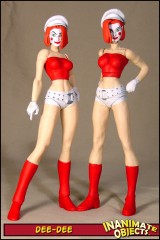 Dee-Dee
One day, I realized that the Danger Girl figures might make great bases for an 6″-scale DeeDee. With the price of Danger Girl figures dropping faster than internet start-ups, now seemed the best time to try. The first DeeDee (to the left) is made from the bob-haired Blonde Danger Girl. (
read more...
)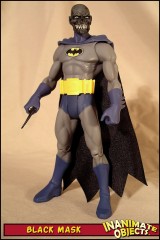 Black Mask (Batman Disguise)
I'm not one to normally make "villain of the week" characters, as they tend to be quickly forgotten, but I really enjoyed the recent images of Black Mask dressed as Batman during the "War Crimes" story. Given that this project would not be difficult, and I already had the parts, (
read more...
)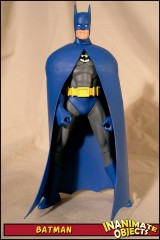 Batman (Adams Style)
For many people, the Neal Adams/Marshall Rogers/Jim Aparo style Batman is the definitive version. I personally prefer the non-blue, non-oval versions myself, but I appreciate this version all the same. Why a legitimate figure of this interpretation hasn't been made yet is simply baffling. The basis of this recipe was (
read more...
)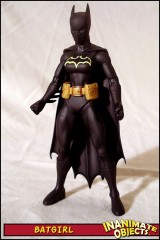 Batgirl (Cassandra Cain McG Style)
For my second tentative step into the McGuinness pool, I opted to make a Cassandra Batgirl, as she appeared in "Public Enemies." This wasn't a terribly difficult project. The base was an existing Superwoman figure, which was just about perfect. I sculpted over the mouth with Magic Sculpt and added (
read more...
)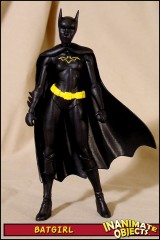 Batgirl (Cassandra Cain)
First, thanks go out to StrangeMark of Custom City. He was the first I know of to suggest using the Kabuki figure as a base for a modern Cassandra Cain Batgirl in the 6″ scale. And a great idea it was, StrangeMark! Kabuki is right in scale with the Mattel (
read more...
)