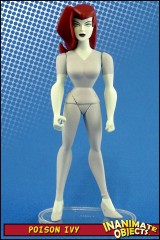 Poison Ivy (Arkham Inmate)
One of the driving reasons behind the Arkham Asylum project was the excuse to make some of Batman's rogues gallery in prison attire. (Like I really needed an excuse.) Since I was working on an updated version Poison Ivy, it seemed natural to make an inmate version of her at (
read more...
)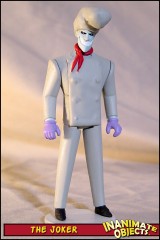 Joker (Chef)
This Joker was inspired by one of the outfits seen in the animated comic book. I felt it was so absurd and funny I wanted to make a three-dimensional version. Created Spring 1999 (
read more...
)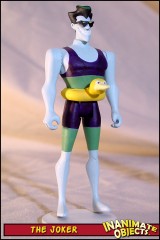 Joker (Swimsuit)
In my quest to keep Joker fashionable, I wanted to make a version of the clown as seen swimming in the episode Harliquinade. The absurdity of him wearing a 1920s styled swimsuit and a floating ducky just amuses me. And the sunglasses are tres chic. The duck is Sculpey around (
read more...
)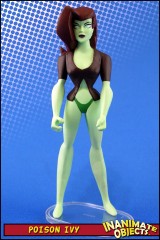 Poison Ivy (Arkham Asylum Game)
I wanted to make an Arkham Asylum Harley, so that meant I had to make a Poison Ivy to go with her. It's just not balanced otherwise, right? The main body is a standard Mattel female buck, with a casting of my Ivy head sculpt. I swapped the feet from (
read more...
)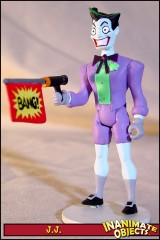 J.J.
Poor little JJ. Man, that'll ruin your day. (I've been asked by viewers to not reveal any spoilers of Batman Beyond: Return of the Joker, edited or otherwise. Frankly, if you're seeing this, it's too late, but I'll do my best to refrain from saying anything specific.) JJ's base is (
read more...
)
Phantasm
This particular custom was really a "side" project, meaning it was made while other figures sat curing or drying. It was really more of an after thought. I never liked Hasbro's attempt at the character, but I never liked the character enough to actually do anything about it. However, one (
read more...
)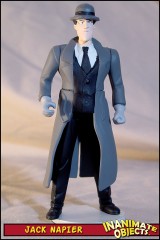 Jack Napier
Granted, I'm partial to the idea that Joker was an out-of-work comedian rather than a gangster before his acid swim (as in "The Killing Joke"), but I really enjoy the few images we've scene of Joker as Jack in the animated style. Obviously, the base is a modified Machine Gun (
read more...
)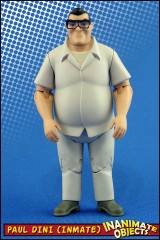 Paul Dini
One of the driving reasons behind the Arkham Asylum project was the excuse to make some of Batman's rogues gallery in prison attire. (Like I really needed an excuse.) Astute viewers know that much of the creative staff often makes cameos in their animated programs. Paul Dini and Bruce Timm (
read more...
)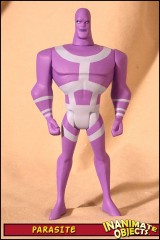 Parasite
Like so many other characters, Parasite long eluded me in my effort to get him "just right." And like other recent efforts, I'm glad I waited. Two of my favorite versions of this custom are Mike Danza's and Doubledealer's. I started in on both their recipes, but for various reasons (
read more...
)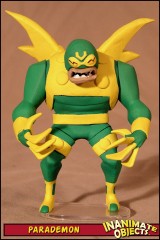 Parademon
Parademon is a project that goes way back. I've had plans of some sort since the airing of Superman: the Animated Series. At the time, I had planned on using Hasbro's bent-knee Batman figure as a base. Some time ago, extraordinary customizer Airmax created a great Parademon, upping the ante (
read more...
)