Gsptlsnz (Bombshell)
Posted on June 5, 2020
Difficulty: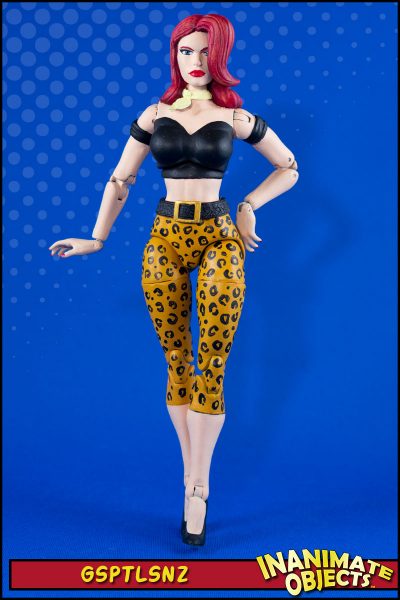 Gsptlsnz! For a character with only a few seconds of screen time (and only a smattering of comic appearances since then), I sure am fascinated with her! It's probably because she's a straight-up pin-up gal, and that's right in my wheelhouse. The only real question is why did it take me this long to turn her into a Bombshell? (And yes, I made a Mxy to go with her.)
In the short time she's appeared in animation, she's worn over a dozen outfits. I've already made one here and here. For the Bombshell look, I opted for one of her lounging-at-home-while-Mxy-is-off-annoying-Superman outfits. Mainly because I wanted leopard print on the shelf!
I started to build her from a Bombshells Ivy figure, which is my go-to starting place. But even for a gal in nothing her her underthings, there are a lot of details that have to be physically removed or resculpted before she's ready to be a "clean" base. Turns out I had one Maven Collectibles 6″ gal left, so I chose her. There's a lot of the Maven gal that I like. But one thing that puzzles me about the sculpt is that for all her, uh, "gifts" up top, she's fairly regular in the legs. (Seems to me the whole thing should be one way or the other.) So I swapped out the legs beneath the thigh swivel for DC Essentials Harley legs and Bombshell Ivy feet. Hubba hubba! Now she has legs for days! The new legs were a close fit to the thigh swivel, needing minimal fill-in additions. (I think I had to make a new peg for the legs. I've already forgotten!)
The belt is from the old Mattel 6″ Catwoman. The scarf bow is from a Bombshells Batgirl. I sculpted the hair and details. The rest is the Maven gal.
Not a bad bit of Frankensteining, if I do say so myself!
(I wasn't going to mention it, but once the face was painted, I thought she looked like a young Sandra Bernhard. I was just reminded that Sandra voiced Gspy's first appearance! Spooky…)
Created May 2020