I represent a charity/non-profit organization. Would you be willing to donate some of your work?
As with selling my figures, it's not a matter of money so much as time. I simply don't have the time to fulfill such requests. I'd be happy to offer advice and tips to those who might like to try custom toy making themselves. (
read more...
)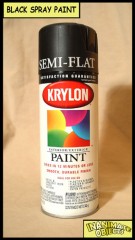 Should I spray my figures grey? White? Black?
Most of the time I will prime a figure with Testor's Dullcote. It acts as an "invisible" primer. But occasionally I will prime with white or grey. In unusual circumstances I might follow with a solid color, depending on the depending on the color scheme at hand. On really rare (
read more...
)
Where can I purchase Super Sculpey?
Most art and craft stores carry Sculpey products. (
read more...
)