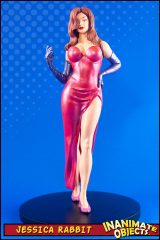 Jessica Rabbit (Realistic)
This 3D sculpt was created by Akash Singh via CGTrader. It's a more "realistic" take on Jessica Rabbit. I printed and painted her. I figured I had the paints mixed and ready from the last three Jessicas I made. Might as well carry on! Created march 2023 (
read more...
)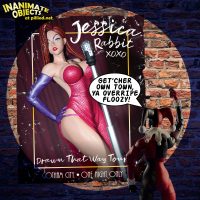 Site Update: March 26, Jessica Rabbit
"Who Framed Roger Rabbit" is one of my all-time favorite movies. In the summer of 1988, I must have seen it a dozen times in the theatre, taking anyone who expressed even a modicum of interest. Roger and Jessica are great characters, and I have more than my share of (
read more...
)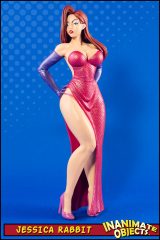 Jessica Rabbit (Bombshell)
It was only a matter of time before I found ways to bring Jessica Rabbit to my Bombshells shelf. It was inevitable. This Jessica is a 3D sculpt by the talented E.S Monster. I scaled it down to match my Bombshell figures, and removed the base. The first time around (
read more...
)
Jessica Rabbit (Bombshell Ranger)
As I was working on my version of the Jessica Rabbit sculpt by E.S Monster, I was struck with a "eureka" moment: I could use the slightly-less toony look to create her Ranger look from "Trail Mix Up," and the existing Bombshells Wonder Woman would be a terrific base figure! (
read more...
)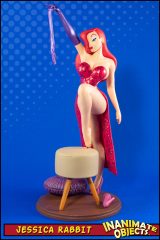 Jessica Rabbit (Tease)
This is a 3D Jessica Rabbit sculpt designed by Torrida Minis. I printed, assembled, and painted it. Torrida does some great work, available via Patreon and CGTrader. Created March 2023. (
read more...
)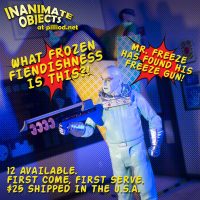 1966 Mr. Freeze Gun
So the McFarlane 1966 Mr. Freeze didn't come with his trademark freeze gun. Yeah, that's stupid, and I have some strong opinions about that. So I decided to do something about it. I made my own! But this time, I did something a little different. I made more! I have (
read more...
)

Photo Archive-Promo Art
Inanimate Objects Promotional Art Whenever I update the site, I enjoy making bit of promotional art to announce the new content. It's strictly for fun. Some of these are fairly recent. Some of them can be measured in decades. (
read more...
)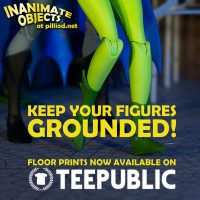 Floor Prints For Sale
ATTENTION TOY PHOTOGRAPHERS! Are you a fan of Extreme-Sets, Diorama prints, Instaprint Dioramas, etc? Yeah, so am I. Real game changers for toy photography in 1/12th and 1/10th scales. But there's one area in their products that could be improved, and that's the floor. The large, foldable ones tend to (
read more...
)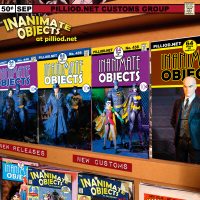 Site Update: August 12, Comic Book Objects
The Inanimate Objects Summer Spectacular winds down with this final batch of (mostly) comic book based creations. Plus a few other friends along for the ride. Batgirl (Classic) Batman (Classic) Robin (Classic) Catwoman (Concept) Clark Kent Etrigan the Demon Lex Luthor The Question Talon The Ventriloquist and Scarface Christopher Lloyd (
read more...
)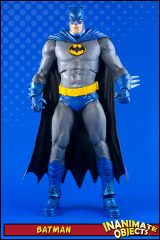 Batman (Classic Repaint)
Another satisfying repaint! This is the Three Jokers Batman repainted. First I painted the trunks black, so they would be on equal footing with the gloves and cape. Then I dry brushed a flat blue on top of the black areas, followed by dry brushed metallic blue. Created May 2022 (
read more...
)