Harley Quinn (Bombshell 2)
Posted on March 26, 2020
Difficulty: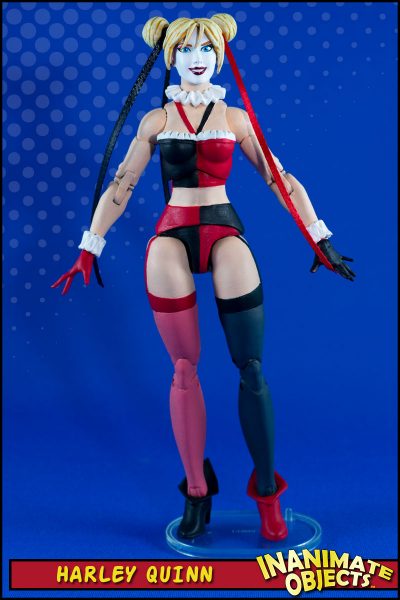 It's no secret that I love Ant Lucia's art, and I especially love his DC Bombshells designs. But I always thought it was a little weird that of the officially sanctioned outfits, Poison Ivy ran around in her unmentionables but nobody else did. (The comic book seems to agree with me and gave her additional outfits.) For my own shelves, I decided to balance the scales, and thus I crafted Harley Quinn in some design-appropriate lingerie.
There's no shortage of "sexy" Harley art out there, but this version is based on the work of Achibner, an amazingly talented digital artist. This Harley design really struck me as maintaining that balance between pin-up art and maintaining Harley's design motifs.
I employed a DC Essentials Harley figure for the torso, arms, and feet. Bombshell Poison Ivy donated the legs. A New 52 Suicide Squad Harley gave up her head and neck ruff for this project. I used Magic Sculpt to shape the top and the garter belt. Deviating from Achibner's art a bit, I opted for rolled buns in her hair with ribbon (1/16″). Just a personal preference.
This Harley joins Catwoman, and now the Gotham City Sirens match.
Created March 2020