Catwoman (Bombshell 2)
Posted on March 26, 2020
Difficulty: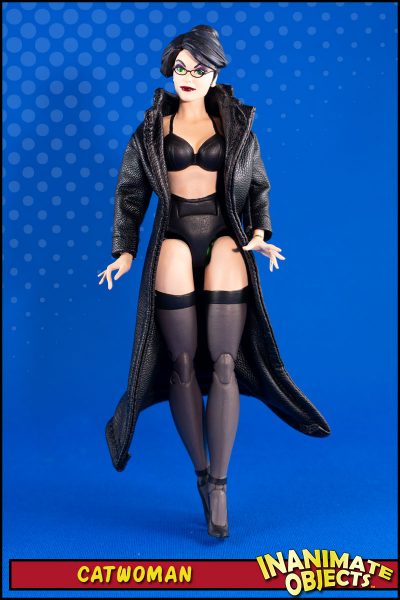 It's no secret that I love Ant Lucia's art, and I especially love his DC Bombshells designs. But I always thought it was a little weird that of the officially sanctioned outfits, Poison Ivy ran around in her unmentionables but nobody else did. (The comic book seems to agree with me and gave her additional outfits.) For my own shelves, I decided to balance the scales, and thus I crafted Selina Kyle sporting her stylish lingerie, based on an alternate look Ant Lucia designed.
This project was mostly a repaint of a Bombshells Poison Ivy figure. I did no additional sculpting on the figure, except to add the ankle straps using strips of vinyl. I removed Ivy's hair and replaced it with portions from a Marvel Legends Mary Jane/retro Black Widow. Additional sculpting was needed to "flesh it out" and to create the bun on the back. The glasses come from a set of pre-cut metal eyeglasses from Japan. The coat was purchased on eBay.
Now along with Harley, Poison Ivy won't appear quite so conspicuous on the shelf.
Created March 2020