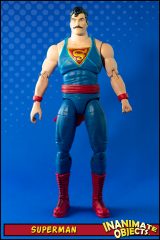 Superman (Bombshell)
This is another custom project where the whole thing depends on the base figure. I needed to find a male figure, 7″-scale, "heroic" without being bulky. That's actually quite tough to find. And I was looking for quite some time. One day I'm in a Target, and I stumble across (
read more...
)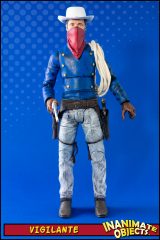 Vigilante (Bombshell)
Vigilante seemed like another one of those characters that would have been a perfect fit in the Bombshell universe, but was never used in the comic. I am here to correct that oversight. The base figure is Diamond Select's Westworld Teddy Flood, a most versatile fodder figure. I removed the (
read more...
)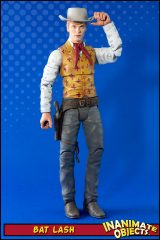 Bat Lash
Bartholomew "Bat" Aloysius Lash was a DC character that first appeared in 1968. (And for those of you too young to even have a clue who he is, no, he's not even remotely related to Gotham or Batman.) Back then Western/cowboy comics were still a thing, and Bat Lash fit (
read more...
)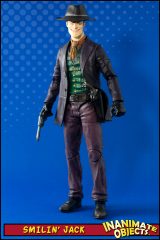 Joker (Smilin' Jack)
Sometimes customs happen because I happen to have parts spread out on the workbench, focusing on solving an unrelated issue, when I see two parts that I simply must try to put together. In this case is was Mcfarlane's White Knight "Jack" head on a Diamond Select Westworld Man in (
read more...
)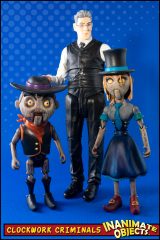 Ventriloquist (Western)
I always say you never know when or where an idea for a custom(s) will come from. In this case, it came from my good pal Pix, who found this Showdown Bandit figure on clearance. Mr. Bandit already had the facial scar. Pix suggested the figure would somehow work as (
read more...
)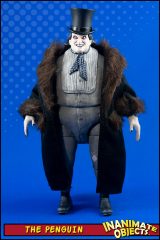 Penguin (Batman Returns)
In its final days of their having the DC license, Mattel finally bestowed upon the fans a 6″(ish)-scale Penguin from "Batman Returns." It was hardly perfect, but better than nothing. (They had previously released a 3.75″ version using a superior sculpt. Why not re-use those files?) The version Mattel released (
read more...
)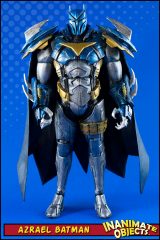 Batman (Azrael)
It's no secret I love Sean Gordon Murphy's "Batman: White Knight" books. His introduction of Jean-Paul Valley is arguably better than the original. And of course I dig the costume designs. Thankfully, Todd McFarlane knocked those out of the park where the figures are concerned. I had seen some folks (
read more...
)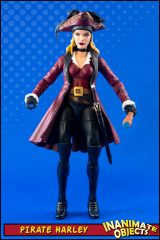 Harley Quinn (Pirate Queen)
Some time ago, I saw a no-paint kitbash project that used the Marvel Legends Elsa Bloodstone figure to craft a female pirate. I knew with a few twists to that recipe that a new career path for our dear, beloved Harley would soon open up. I didn't have to (
read more...
)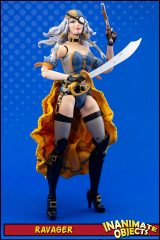 Ravager (Bombshell)
Seems like the farther I make it through the Bombshells roster, the more challenging each design becomes. That's certainly the case with Ravager. But I relished the challenge, and managed to learn a few things. This particular design is based on Emanuela Lupacchino's Bombshells comic cover. (I want to say (
read more...
)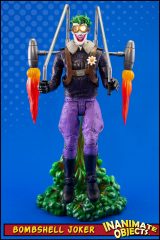 Joker (Bombshell)
As I started work on Airboy, I began to think about what other uses the Diamond Select Rocketeer might have as a base. I'm not sure what prompted this result. It might be because I popped a White Knight Joker head on the body in jest. Whatever it was, it (
read more...
)