Ventriloquist (Western)
Posted on June 12, 2021
Difficulty: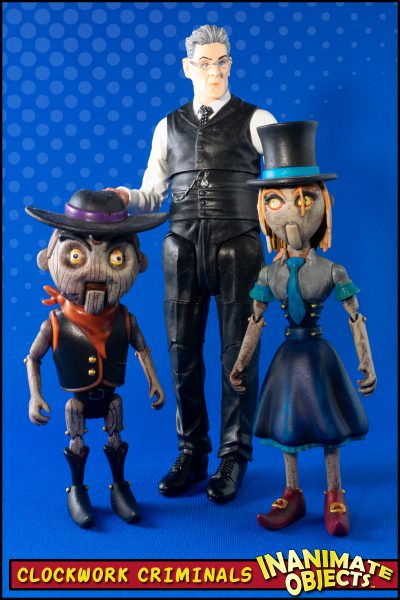 I always say you never know when or where an idea for a custom(s) will come from. In this case, it came from my good pal Pix, who found this Showdown Bandit figure on clearance. Mr. Bandit already had the facial scar. Pix suggested the figure would somehow work as an Old West version of Scarface. And that's all it took. I decided in this setting, Scarface might be more of a clockwork device, and less a puppet.
Scarface got repainted, and then I found the other figures in the line, including Miss Undertaker. Why not add one more clockwork marvel? I repainted her and renamed her Riley. (After Peyton Riley, a.k.a Ventriloquist II.)
Now I needed Arnold Wesker himself, the Ventriloquist. I pulled a Diamond Select Westworld Robert Ford from fodder, and found an old DC Direct Justice Jonathan Crane head that fit the bill. I simply repainted his hair.
And if you're thinking this little set was also partially inspired by Professor Marvel of Wizard of Oz fame, you'd be right. I need to find or build a show wagon! I see Professor Wesker and his Clockwork Marvels traveling from town to town, and everywhere they go a mysterious rash of thefts occurs.
Created April 2021