The Knight
Posted on March 16, 2018
Difficulty: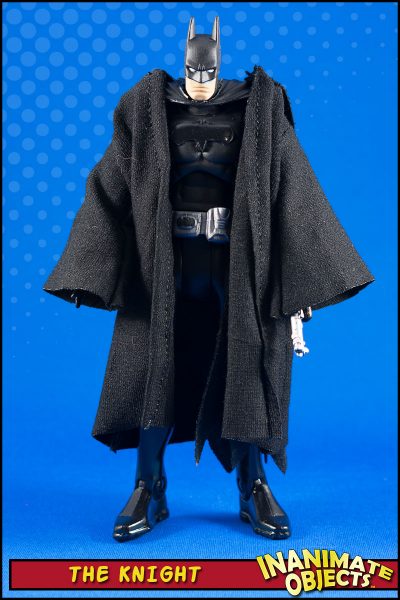 The Knight represents a Jedi/Batman in "Gotham Wars."
My initial plan was to simply slap a black rope over an existing Batman figure, place a lightsaber in his hand, and call it a day. That plan changed when I came across the Black Series landspeeder on clearance, and it got added to the story. Now I needed a Knight that could fit in the driver's seat. That made matters more complicated.
I had already bought the robe on eBay. Now I was scouring through my fodder supply to see what would fit the speeder. Ultimately the Knight is made up of various Batman parts from the early days of Mattel's tenure, circe 2004. The torso, arms, pelvis, and legs all come from the same figure, but had previously been separated at the waist. (No doubt I used the utility belt for something else.) I dug up a different, more space-y looking belt, and made a new waist joint using a styrene peg. The head, mantle, and cape are from yet another Batman figure. Once assembled, and with some squeezing, the figure could sit in the speeder.
I added a sculpted Bat logo, and painted everything black. That was a mistake.
Once painted, I could no longer cram the legs into the speeder without scraping off the paint. Fortunately, the waist peg is not permanent. So in the photos of his driving the speeder, he has no legs!
Created February 2018