Robin (Tim Drake McG Style)
Posted on July 5, 2013
Difficulty: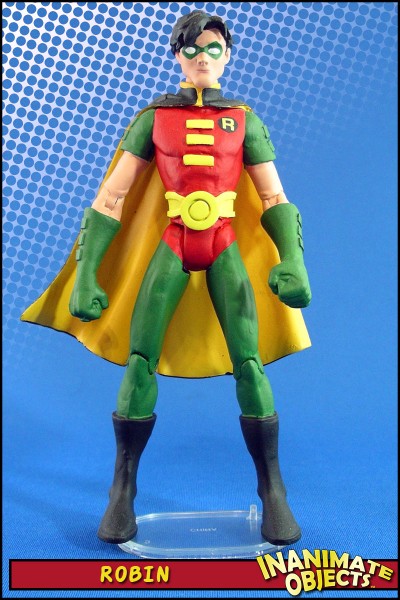 McGuinness-style customs are a lot like animated figures: they tend to easily multiply .I knew I might get sucked in once I made Superlad.
Robin is part of my effort to finish out the "S" and "B" teams seen in the "Public Enemies" storyline. The base figure is a DCD Impulse figure, with lots of Dremeling and sanding to remove the dimensional details. (Could still use some more, truth be told). I felt that the Impulse figure was similar in style to the McG-style figures, thus allowing Robin to be of smaller frame than his muscle-bound comrades. It only made sense, then, to use a Crimson Alex figure for the head, since the same artist had draw both Alex and Impulse as they were later depicted in plastic .I removed some of Alex's hair. The mask is simply painted on. Robin's glove, belt and the tunic buckles (what are those supposed to be?) are Magic Sculpt and/or vinyl. His boots were cast from a McG Superwoman. A perfect fit! The cape is taken from a DCD Teen Titans Robin. I had intended to make a longer, more accurate cape, but this one fit so nice I opted to take the easy route.
I should say that both my McG Huntress and Robin were sitting on my desk for a year. I worked on them as time allowed, but by the end I was really ready for them to be finished. I think I cut some corners as a result.
Created Winter 2008