Mala
Posted on October 18, 2013
Difficulty: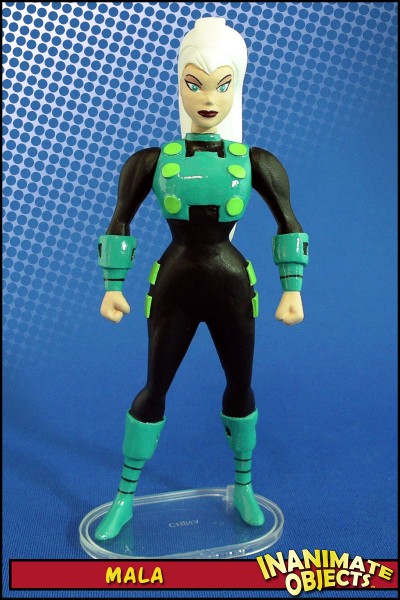 A Mala custom is a deceptively tough nut to crack, and that's probably why it's taken me so many years to get around to making her and Jax-Ur. She's certainly a beefier shape than the usual wispy female character designs of the Timmverse. That meant having to Frankenstein some parts and shapes.
Mala started with a Hawkgirl torso atop some Hasbro TNBA Batgirl legs. Next up was a lot of Magic Sculpt blended around the hips to form that wider silhouette. Her arms are from a Wonder Woman, repositioned and with extra mass added. All the armor is shaped from magic Sculpt.
Mala's head is a Jack in the Box Batgirl head, with the mask lines filled in. The giant ponytail is made from Super Sculpey, and affixed via a styrene rod. (It's articulated!)
Ultimately, Mala should be as tall as Jax-Ur, but solving that issue and the proportion challenge at the same time wasn't an option. Despite that, I think the pair looks great together.
Created October 2013