Magpie
Posted on July 14, 2021
Difficulty: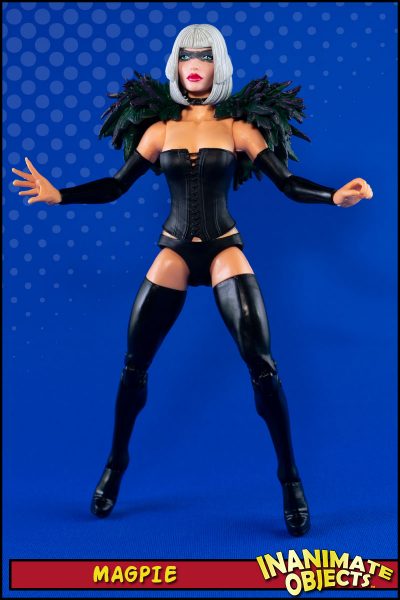 Magpie was was of those C-list villains from the 80s whose design just screamed out "I'm from the 80s!" She was largely forgotten until she was redesigned and reintroduced in Beware the Batman. (You can see my custom of that design here.) Since then she's appeared a few more times in comics, with a nod towards that animated appearance.
I had bought the Marvel Legends Hellfire Club set specifically to make White Rabbit. But I knew the "Black Queen" figure had potential, too. I just had to figure it out. I went back and forth on a few ideas, but nothing seemed to stick until I acquired McFarlane's Robin King figure. Hey, I told myself, that feathered collar looks familiar. D'oh!
So this is a Marvel Legends Black Queen with a Robin King feather collar. The collar was easily removed, and fit perfectly around her neck and over her shoulders. No modifications necessary. Her head is from the accompanying White Queen figure. I added the bangs and the "feather cut" on the sides. I painted the hair, the mask, and her lips. And she was finished!
Created June 2021