Magpie
Posted on September 25, 2020
Difficulty: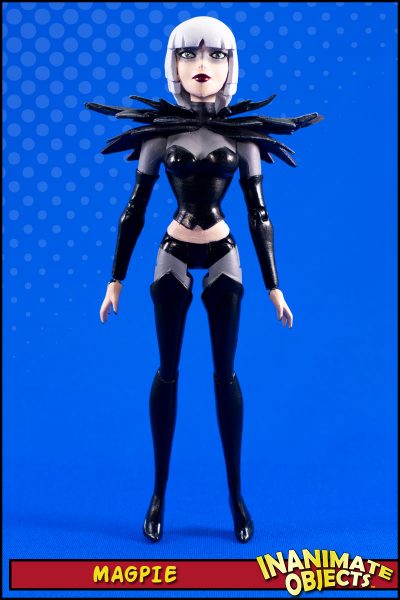 I've wanted to make this version of Magpie since I first saw her appear in "Beware the Batman." Her design might as well be right out of the Timmverse! It only took me seven years to get around to it. I may be slow, but I get there eventually.
Magpie's base is an animated DC Direct Hawkgirl. (Just as useful now as she was in the smaller scale.) Magic Sculpt was used to fill in some of Hawkgirl's details, and to add the bustier, the boots, and sleeves.
Selecting a head was tough. I ultimately landed on a "Gods and Monsters" Wonder Woman. The helmet and details had to be removed, and replaced with new hair. Let me tell you, that layered look is tougher to sculpt than it looks.
The biggest question, of course, was how to make the feathers. This is probably what stopped me from making this character years ago. After exploring and discarding several ideas, in an act of desperation, I Google'd some generic term like "toy feathers." After some searching, I was reminded of the old MOTU Startos, who wears those weird wing things on his arms. Even better, those wing parts were available now as part of some weird MOTU/wrassling mashup line. Problem solved! A little slicing and dicing later, Magpie has her feathers.
Created September 2020