Joker (Bombshell)
Posted on February 1, 2021
Difficulty: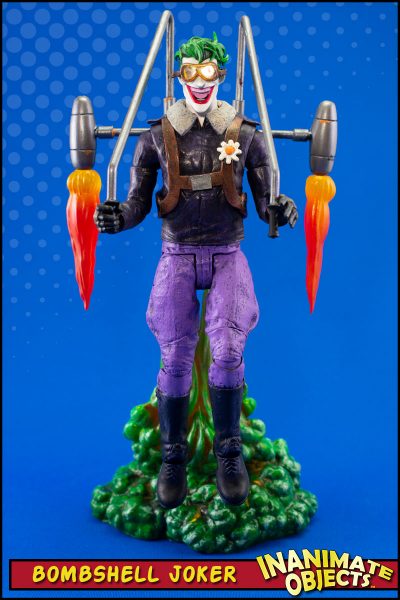 As I started work on Airboy, I began to think about what other uses the Diamond Select Rocketeer might have as a base. I'm not sure what prompted this result. It might be because I popped a White Knight Joker head on the body in jest. Whatever it was, it worked. And a Bombshell jet pack Joker was born.
This particular design does more than its share of heavy lifting.  First and foremost, it's meant to be my interpretation of a Bombshell Joker. (I'll figure out how to make sailor Joker eventually.) It's also meant as an homage to Joker's appearance in "Mask of the Phantasm," both the movie and the accompanying Kenner action figure. The movie inspired the wacky jet pack design, with the jets on the side and the over-the-shoulder control bars. The coat and the jodhpur pants are a reference to the not-at-all-screen-accurate Joker figure released at the time. Furthermore, given that the rockets are on the sides,  I repainted the "exhaust" so as to appear as if he's leaving a trail of Smile-X gas. (Thanks for the idea, Pix!)
Joker is built on a Diamond Select Rocketeer. I removed the front panel, filling in the holes underneath. The only sculpted addition is the fur collar. The flower is from a Mattel Joker. Bombshell Hawkgirl donated her goggles to the cause. And I said earlier, the head is a McFarlane White Knight Joker.
The jet pack took considerably more effort. I started with the Bombshells Hawkgirl pack, itself an homage to the Rocketeer's famous jet pack. I cut off and moved the pipes on either side. I used styrene tubes to re-fit the pack over the stand. Magnets are affixed inside the tubes and at the top of the stands, so as to help keep it steady. More styrene was used for the out-rigging. The jets themselves are old JLU parts from fodder. Magnets were used again to hold the jet flames in place. The control rods are cut from the hand rails of the 1989 ToyBiz Batcave playset. (Never throw anything away, kids!) Finally, a magnet at the center of the pack connects with a magnet on Joker's back.
(And yes, that is tape holding the harness in place in the WIP photo. The harness was not yet affixed at the time.)
Created January 2021