Joker '89
Posted on March 26, 2020
Difficulty: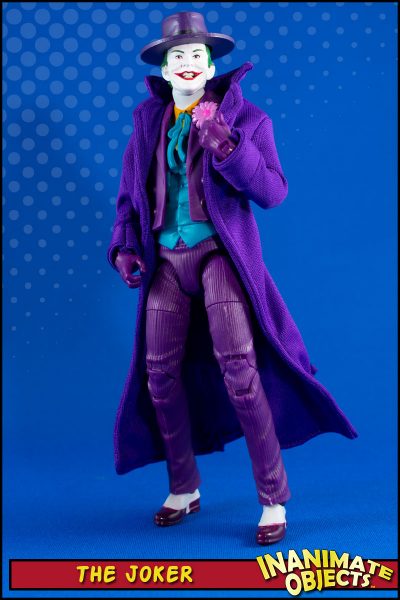 Much like Catwoman, it's a crime no company has manufactured a proper Jack Nicholson Joker in 6″ or 7″ scale. Until that day arrives, I will fill that gap with temporary measures.
This came about because of the burgeoning trade on eBay in shrunken Hot Toys head sculpts. I found a Jack Joker that was shrunk down to a 7″-scale and went to town.
My plan initially involved a fairly complex custom involving an entirely different body. Jack Nicholson's Joker in 1989 was not super-skinny as so often depicted in the comics. He was by no means fat. If anything, I'd say he was an average human male shape. And that shape is tough to find as an action figure. I had started to adapt a different figure, sculpting on the costume details. But the results were less than satisfactory. So I did what several others before me did; I opted to fake it. Mattel's final "ToyBiz" tribute Joker was properly colored, though the sculpt was comic-style. I merely performed a head swap with the previously mentioned shrunken Hot Toys noggin. To help obscure the too-skinny body, I added a coat I procured on eBay. All that was left was the hat, which was provided by the amazing juicetinscustoms. I made a few modifications and the hat was ready to go.
Not perfect, but not a bad placeholder either.
Created March 2020