Catwoman '92
Posted on March 26, 2020
Difficulty: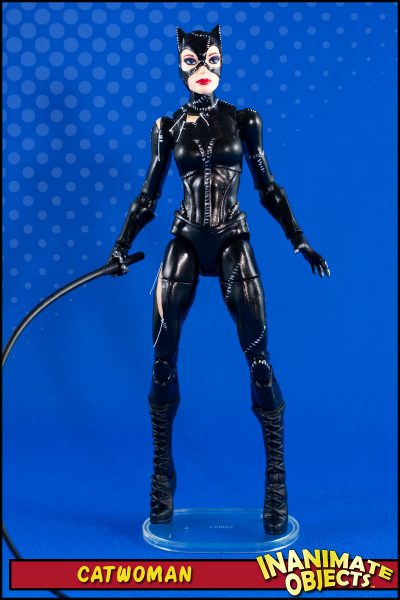 The fact that an official Michelle Pfeiffer Catwoman figure (6″ or 7″) does not yet exist is a crime. Every Toy Fair and SDCC I keep hoping that Warner Bros. will come to its senses and license out the movie characters to NECA, Mezco, or DC Direct and allow proper figures to be made. Alas, I hope in vain.
So, time to take matters into my own hands. Obviously, I've had a lot of time to think about this one. The final kick in the pants to get me motivated came from the overly-talented Zelu1984, who crafted a near-perfect Michelle Catwoman. I don't claim to be near as accurate, but it'll do for my shelf.
I opted to build mine from a Marvel Legends Retro Black Widow base. The whole figure was molded in black plastic, thus allowing me to worry less about paint rubs in the joints. The only drawback was the "uni-boob," but it wasn't a deal breaker. I swapped the feet with those from a Marvel Legends enchantress. Her head, or at least the face, is a Marvel Legends modern Spider-Woman. I stole the clawed hands from a DC Essentials Catwoman. The whip-gripping hand is from the fodder bin. (That's code for "I don't remember.")
The boots, gloves, corset, and mask were all sculpted from Magic Sculpt. The boot laces are shaped from ProCreate. The newly sculpted areas were painted black. Of course, the thing that really sells this character are all the white laces. Those are all little ticks of white paint. I am not going to sculpt all of those! I then applied brush-on gloss to all of the outfit except the boots. Finally, I glued on a few bits of loose, white thread to give it some dimension.
Until we get the real deal, this will have to do!
Created March 2020