Iceberg Lounge
Posted on May 4, 2014
Difficulty: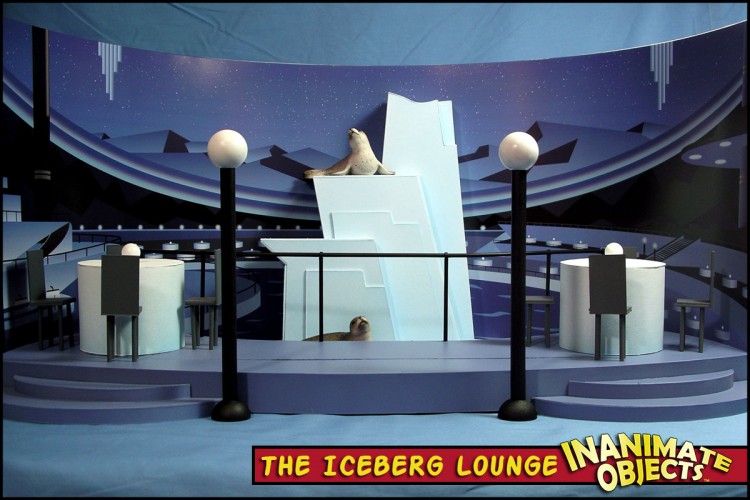 Ah, the Iceberg Lounge! A wretched hive of scum and… Wait, that's not right. Well, it's still full of ne'er-do-wells. It's just a bit classier than one might expect.
I've always enjoyed the interpretation of Penguin as an underworld crime lord posing as a respectable business man. It gives him a sane outlook that most of the other Rogues lack. Using a club like the Iceberg Lounge as a front is exactly what he needs. I, for one, needed it on my shelf!
This project knocked around in my head for years. It wasn't until I constructed my Darkseid throne room that the Lounge started to really take shape, though. I used a similar technique for both: the curved wall acting as a backdrop. In this case, I opted to create the details of the backdrop in Illustrator. You can see in one of the WIP photos that I printed out the backdrop on several sheets of paper  in order to test the size. I then had the full backdrop printed as a poster at PosterBrain. Some double-sided tape holds it in place.
Most of the Lounge was built using illustration board. The curved portions are usually poster board. The "box" was sized to fit on my current shelves. The "apron" part of the floor extends beyond the edge of the shelf, and thus I built it as a separate piece.
The railing is made from styrene rods. I heated them in hot water and then bent them in an approximate shape of the platform curve. The vertical rods are held in place from beneath the illustration board floor via blobs of magic sculpt.
The chairs are made from a styrene sheet and rods. The two lampposts are made from wooden craft parts. The tables are cut from a cardboard mailing tube, and wrapped in paper. The table tamps are tiny plastic balls painted white.
The seals are from the eponymous Schleich line of animal toys. I had intended to cut a piece of plexi-glass under the iceberg to facilitate the illusion of water, but there's a reason most people don't cut plexi-glass into funny shapes. It doesn't work well. Maybe I'll try again later.
If anyone else is crazy enough to try this, I'll happily share the background art. Just drop me a line.
Created May 2014