Harley Quinn (Assault on Arkham)
Posted on December 5, 2014
Difficulty: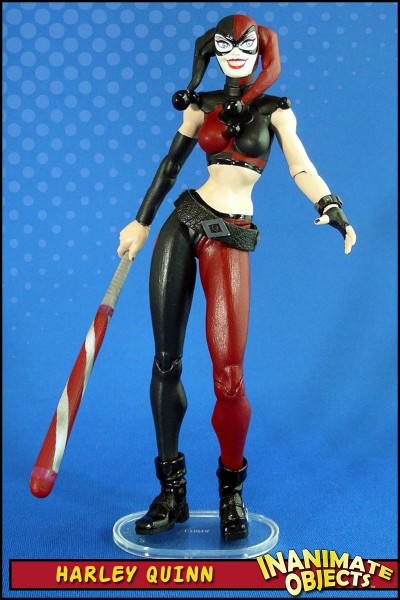 As a card-carrying DC fan, I am required to watch all of the direct-to-disc animated movies produced. Sadly, most of them are junk. (There are only a handful I've enjoyed, most I tolerate, and some are downright bad.) One of the surprising gems for me was "Assault on Arkham." Given its focus on a very Nu52-ish Suicide Squad, I expected to not be impressed. I was pleasantly surprised by how much I enjoyed it. Of course, I'm a big fan of the Arkham video games, too, and the movie tied into the games better than I expected, right down to some of the sets and locations. Kevin Conroy as Batman never hurts either.
And thankfully, the interpretation of Harley matched that of the games, which isn't too far removed from her animated self. I was pleased. At first I wasn't crazy about the outfit, but it grew on me. I finally decided I wanted this version of Harley to stand with my other game figures. (I also went out and bought a Captain Boomerang figure. Not perfect, but he'll do as a stand-in.)
The toughest choice before starting was choosing a female base. I felt the Hush Harley figure contained that flexible, lithe quality that the animated movie character possessed. Plus, the shape of the head tassels is pretty similar. But Hush Harleys are hard to come by these days without overpaying. Fortunately, I found a broken one on eBay. She was missing her left arm, and when she arrived her right leg broke off. I replaced the arm (from an old Danger Girl figure) and rebuilt the knee joint. I shaved off the jester cuffs, and swapped feet with a Mattel Catwoman. The belt is made form faux leather and vinyl.
I kept the original Hush Harley paint on the eyes. The eyes might be slightly inaccurate, but I certainly couldn't paint them any better. Also, though it's difficult to discern in the photos, her colors are an accurate red, dark grey, and black. (Most of the black has been made glossy, but not all.)
Created November 2014.